The commercial offer of manual coffee grinders is very wide. From designer, wooden grinders which are easy on the eye in the kitchen cabinet to ceramic burr grinders which are easy on your wallet, to upmarket grinders – with high quality steel burrs and good stability of the grind, which bring out the most flavours and aromas from the coffee. So, is there any space for new products in this segment? If they stand out with quality, technology and grinding precision, they can steal the heart of many coffee lovers! Let me introduce you to 1Zpresso grinders.
Young Brand with Fresh Ideas
1Zpresso is a new brand on the market of coffee accessories. The Taiwanese brand was established by a group of coffee enthusiasts with BA in engineering and is focused mostly on the production of manual coffee grinders. It is worth your attention not only because of the high quality of their products, but also because of implementing interesting technological solutions which will make daily coffee brewing easier and more pleasant.
Awarded Technologies
1Zpresso can boast a first prize in the Red Dot Design contest. In 2018 the manual Z-Pro coffee grinder received an award for innovative external grinding adjustment, which enables immediate adjustment of the grinding thickness via external ring – knob – like the one in electric grinders. This kind of solution is incredibly convenient, especially while you're testing out recipes. This functionality will be definitely appreciated by seasoned coffee drinkers.
Each 1Zpresso grinder is easy to take apart without any tools in order to, for example, thoroughly clean the device. Stability and evenness of the grind are provided by an axis with a double bearing. All grinders of this producer also have large (38-47mm) conical burrs which provide fast and convenient work of the device.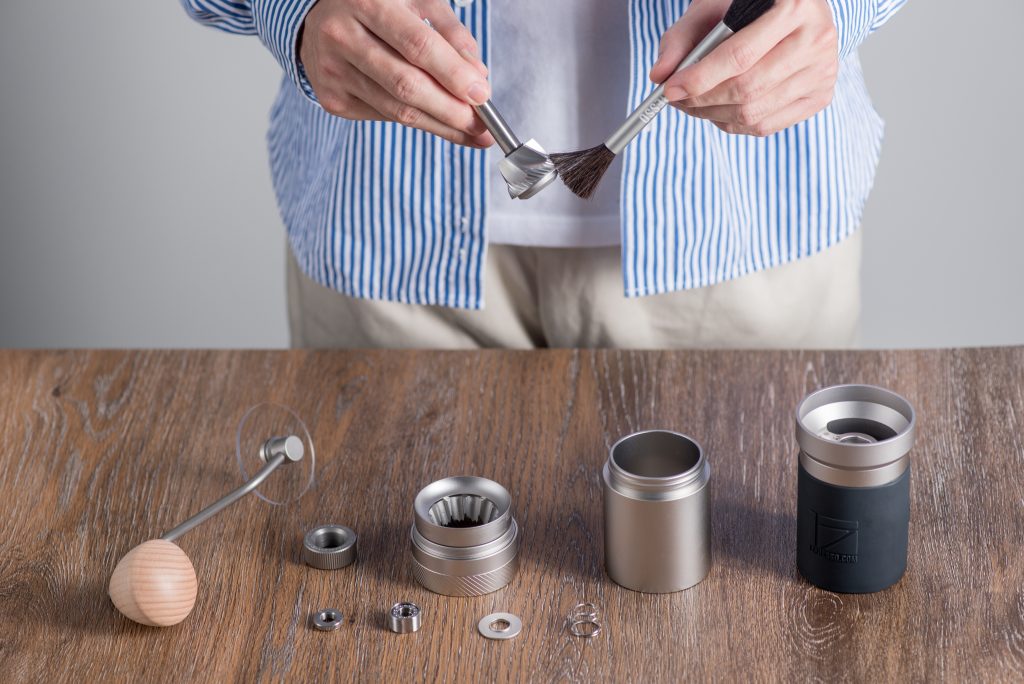 For Pour-Overs and Espresso

What makes 1Zpresso grinders unique is definitely their versatility. The market is dominated by manual grinders which can only grind coffee for alternative brewing methods – 1Zpresso meets the needs of espresso fans, providing a wide portfolio of coffee mills that will grind coffee for espresso.
The Overview of the Models

The producer offers grinders for pour-over coffee, espresso and universal ones – which will work well for both methods. What are the differences between particular models?
Grinders Recommended for Pour-Over Brewing Methods:

Q2: it is a basic model of 1Zpresso grinder that will work both for the rookies and more advanced coffee lovers. Compact size makes it good as a portable grinder, especially that it fits AeroPress. Steel, pentagonal 38-mm conical burrs and multi-level grinding adjustment provide a convenient and smooth workflow. The ground coffee container holds up to 20g of coffee, which is enough for one cup of coffee.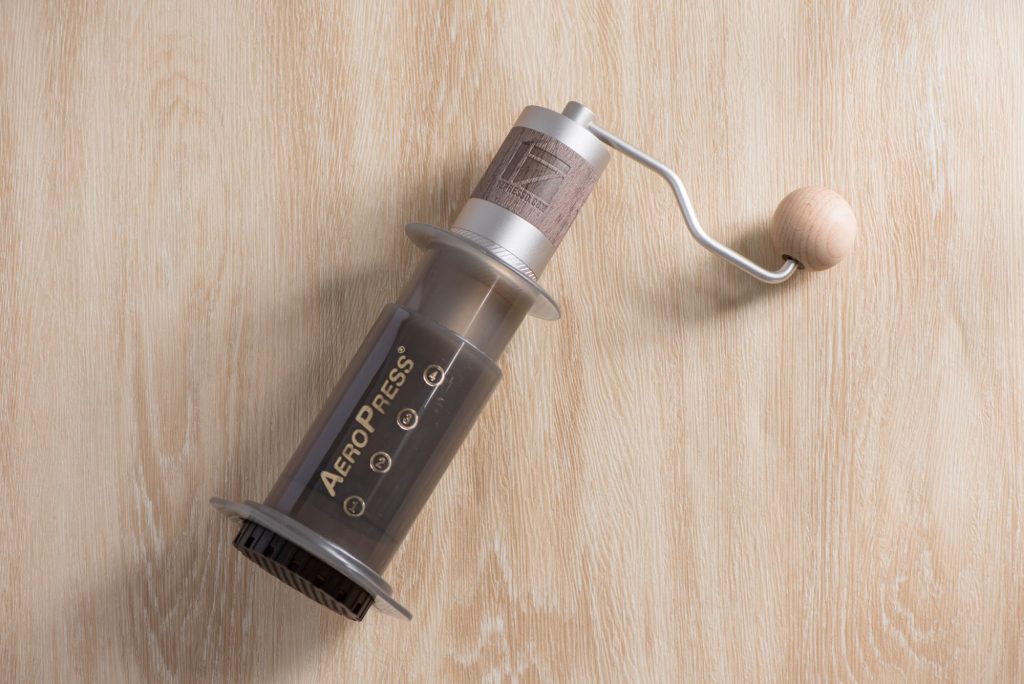 JX: a larger grinder with 48-mm burrs holding up to 35g of coffee, less portable, but great when you need to prepare larger portions of coffee.  
Grinders Recommended for Espresso: 
JE: equivalent of JX model in the version for espresso with 47 mm coated burrs is a basic solution for espresso lovers. It holds up to 35 g of coffee.
JE-Plus: advanced version of JE grinder with a very precise grinding adjustment. It is additionally equipped with a very thorough grind adjustment. It is also equipped with a magnetic coffee container with an open bottom, which allows to grind or pour coffee straight to the 51-mm and 58-mm portafilter. It holds up to 35 g of coffee.
Grinders Recommended for Espresso and Pour-Over Methods:
X-Pro: advanced version of JX grinder with the same burr – 48 mm and 40-degree grind adjustment. Its ground coffee container holds up to 35g of beans.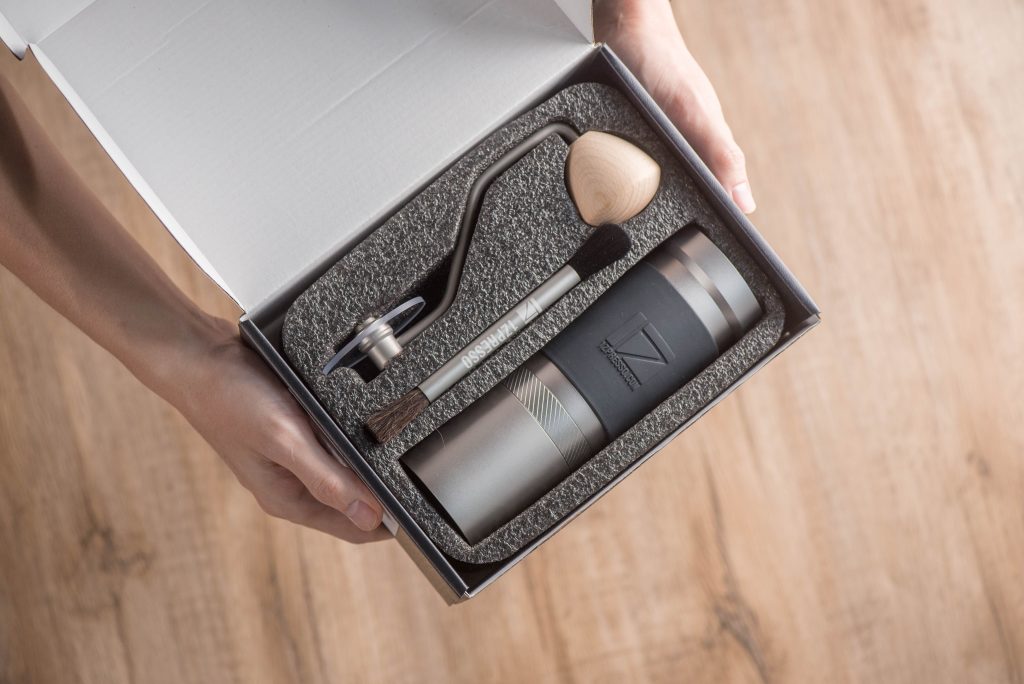 K-Pro: a universal grinder for advanced coffee drinkers with external, comfortable grind adjustment knob, 48-mm burrs and up to 35g of coffee capacity. 
K-Plus: K-Pro grinder on steroids: apart from the external grind adjustment and large 48-mm burrs it has a magnetic coffee container (just like JE-Plus model dedicated to espresso). It holds even more coffee: up to 40g, and it has 90 degrees of grind adjustment. However, it affects its weight and size: the device weighs 800 g.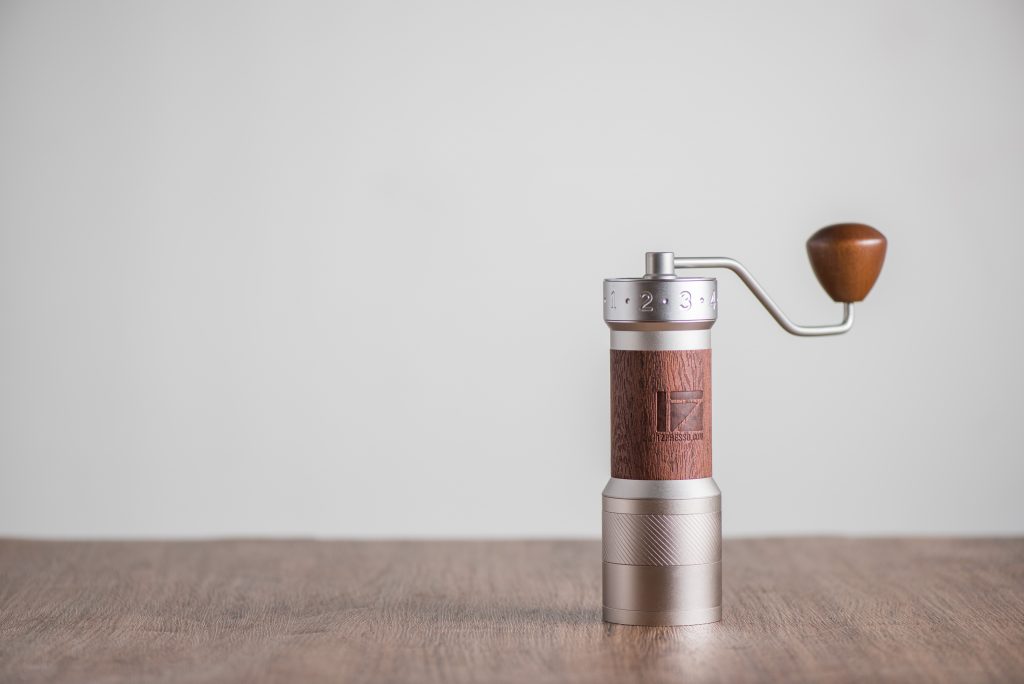 What Is It Like to Use Those Grinders?
We have carried out the test of the grinders together with three coffee afficionados: Sebastian Kownacki (a longstanding fan of specialty coffees and a coffee blogger known on Instagram as ile_klikow), Kamila Adamiec (Champion of the Polish Brewers in 2018 and a second Vice-Champion of the Polish Barista 2020, founder of Projekt Nano Café) and Paweł Świderski (a former barista at Coffedesk Café, currently the expert in heavy equipment in the company, third on the podium of the Polish Brewers Cup Championships 2018). What were their conclusions after testing 1Zpresso devices?
1Zpresso Q2 Grinder
Sebastian Kownacki tested 1Zpresso Q2 grinder, which is the basic grinder for alternative brewing. In his opinion, what makes 1Zpresso grinders stand out are interesting technological solutions: 'All 1Zpresso grinders share an excellent trick. You can screw out the burr block from the sleeve, and then easily clean the grinder without dismantling the axis. I'd sell my soul for this simple, genius trick'.  Sebastian stresses that the elements which make the grinder exceptional are: 'symmetrical, double-sided stabilization of the axis with two bearings, metal conical burrs, aluminium, light and yet sturdy construction and interesting solutions never seen in the competitors'. He also adds that Q2 model stands out among other 1Zpresso grinders with its compact size: 'There's no denying that the biggest advantage is the fact that its size makes it fit inside the piston of AeroPress, which makes 1Zpresso Q2 a perfect grinder for brewing coffee in the open air, on the road or simply away from home'.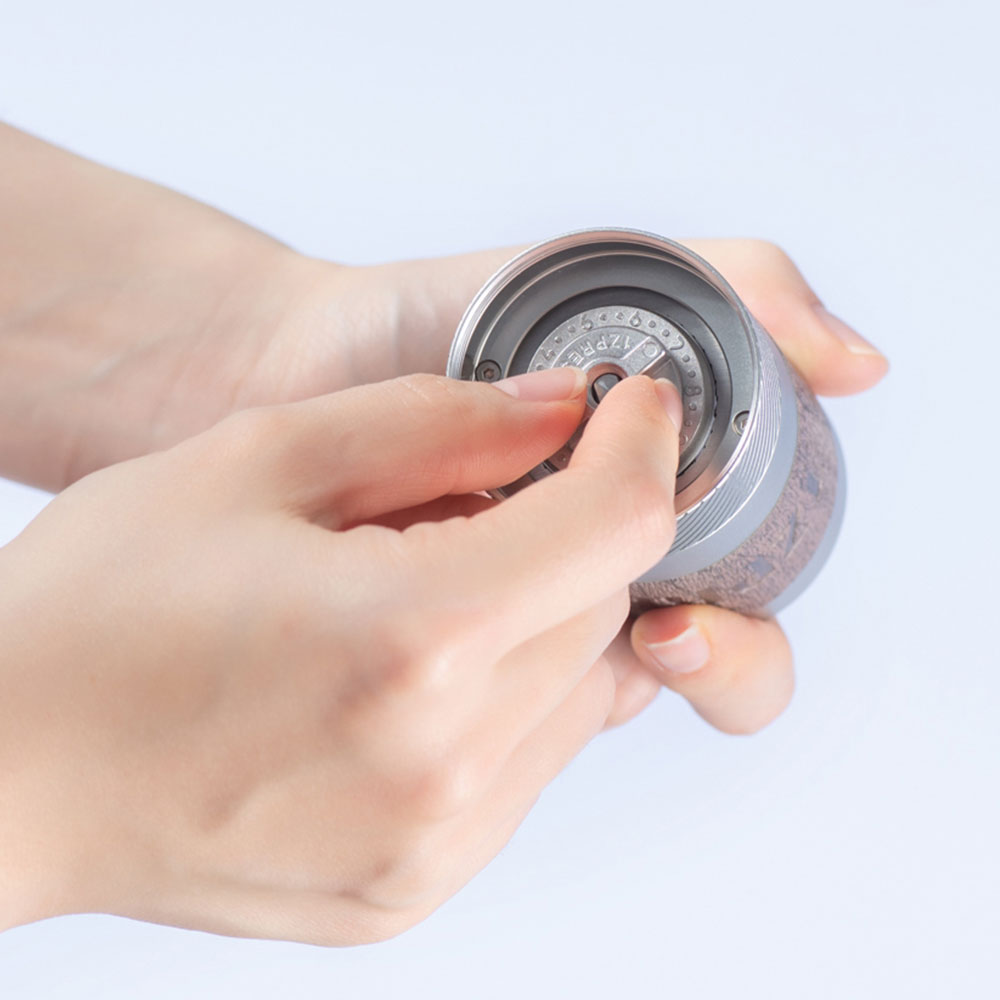 The price of the device is also noteworthy: '1zpresso Q2 cost even a third of the price of the most expensive manual grinders. Within its price range 1Zpresso Q2 is a grinder with a high-quality finish, produced from good materials and producing a very nice taste in a cup. It will be great as a grinder both for immersion and percolation methods, and its compact size will make it a great solution on a trip', adds Sebastian.
1Zpresso JX-PRO Grinder
Kamila Adamiec, who tested 1Zpresso JX-PRO grinder dedicated both for pour-over brewing methods and for espresso, describes her first impressions from using the grinder: 'I grab the grinder. To each its own, but I simply love it. It looks stable and high quality. It weighs almost a kilogram and is quite heavy, but I still feel that it's a well-made device, not some heavy junk. Luckily, it fits comfortably in my female hand. Plus, the rubber stabilizing the handle is simply gorgeous'.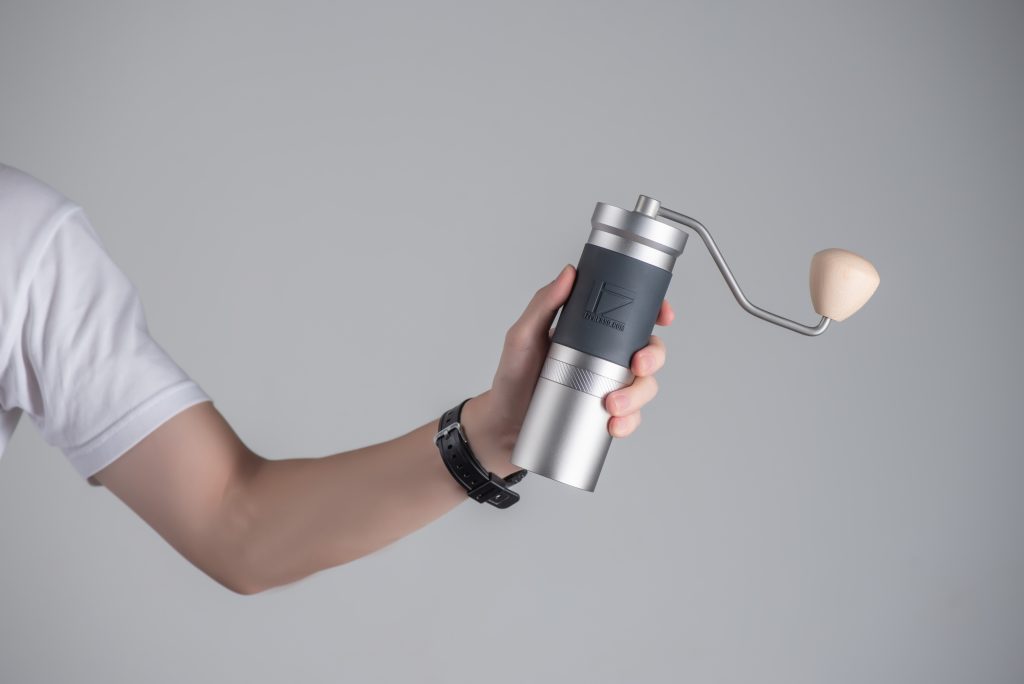 Kamila noticed during her tests that the grinding is very smooth compared to other devices available on the market: 'Why is it so? From where I stand it is the matter of grind smoothness, because the handle or burrs in 1Zpresso didn't get stuck even once. Even though you need to put some effort into grinding, it is regular. What is more, the fewer coffee beans remain in the upper hopper, the easier the grinding. Pay attention to the large burrs, the coffee beans get between them evenly and without any problems, which make the whole activity feel very smooth. The burr is built in the body which stabilizes the whole device even more and gives just a few pieces to dismantle: the number of loose pieces is limited. Additional advantage: the container for ground coffee fits perfectly into the portafilter, so dosing and distributing are super simple'.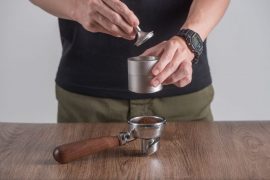 1Zpresso K-PLUS Grinder
Paweł Świderski tested the heavy stuff: K-Plus model suitable both for pour-over methods and espresso. Holding it first time in his hands, he described his impressions: 'Heavy and sturdy construction made of stainless steel with a wooden handle already at the start sends a message that it is a durable device. It also has an elegant crank with a wooden head which is consistnet and aesthetically compatible with the grinder'.
Paweł paid attention to an interesting solution: 'The container for ground coffee is mounted with very strong magnets, which I initially felt dubious about. However, despite my tossing and nudging the bottom part of the mill quite heavily with my hand, the container stuck to the main body, which was a relief. Another thing is a cap for the bottom part of the ground coffee container. What's that all about? You can screw the cap onto the ground coffee container and, thanks to proper cuts, place it on portafilters of various sizes, there is also a special plug that makes the whole construction sealed.'
The customers will like 1Zpresso for its solid design, durability, convenience of use and easy cleaning, and, most of all, for high quality at an attractive price. This mixture of qualities will definitely convince the home barista beginners, who are cautious with money spending at the onset of their coffee adventure. 1Zpresso is a tempting offer also for the consumers who like to test out novelties. 1Zpresso grinders are available at: