This may come as a surprise, but it is a grinder, not an espresso machine that is the most important appliance in a coffee shop. The quality of each espresso or drip coffee served by you depends on how good and quickly you can grind. What sets a good grinder apart from a poor one?
Burrs are the key!
If the grinder is the most important device for preparing coffee, the burrs are its most important element. They are responsible for breaking coffee into small particles. Their shape, size and durability determine the grind quality and thus the flavour of the brew. They are an element that wears out and should be exchanged at regular intervals. When choosing, what should you bear in mind?
Flat or conical burrs? Actually, this is not so important and there is no clear-cut evidence that one type of burrs is better than the other. It is worthwhile mentioning that in the case of constructions with conical burrs, there is a risk of damaging the motor shaft, which in turn destroys the whole device. This can happen when, for example, together with coffee beans, a pebble gets into the grinder. Of course, flat burr grinders won't come out of this undamaged either, but, as far as they are concerned, the risk of destroying the motor is smaller.
Size matters – in general, the bigger the burrs, the better. As their diameter grows, so does the speed of grinding and the risk of overheating coffee, which can happen as a consequence of heavy loads and fine grinding, decreases. Besides, large burr grinders usually come with stronger and more robust motors, and their geometry allows them to achieve greater precision in grinding. The minimum burr diameter for an industrial espresso grinder should be 65 mm.
Burrs wear out and should be exchanged depending on their wear rate and materials they are made from. Some burrs are coated with Titanium, which doubles or even triples their lifespan. When choosing a grinder, it is worthwhile
Application: espresso or drip coffee? Those two brewing methods require two completely different grind sizes and thus burrs with different characteristics. Therefore, an espresso grinder won't necessarily produce a delicious pour-over coffee, whereas a grinder for dripper or Chemex may not even be able to grind fine enough for espresso. This is why you need to identify your needs right at the beginning – espresso grinders are usually more expensive, because they require a high precision of grinding and a higher lifespan of the elements, which makes them withstand intensive use in a catering business. There are appliances on the market that can grind well both for espresso and pour-over methods. Such appliances are, among others:
Of course, none of these devices belongs to the cheapest ones within their class, but they are universal and offer you a high quality of grinding for every brewing method.
Stepless adjustment of grind sizes – particularly important when it comes to espresso. Thanks to this system (which is present in most professional grinders), it is possible to adjust the grind size very accurately. The best models on the market additionally provide you with a convenient and easy to use regulation system based on a worm drive. Thanks to it, you can adjust the grinder without any effort and quickly change the grind settings.
Dosage programming and doserless construction – every modern espresso grinder should have those two traits. They can save you a lot of time and money, since coffee is ground evenly and in a repeatable way every time, and, moreover, it goes directly into the portafilter. This solution also helps you to keep ground coffee as fresh as possible and achieve a repeatable espresso extraction.
Easy access to burrs – the grinder has to be cleaned, just like an espresso machine or an oven. The more often and the more thoroughly you do it, especially if you use dark roast coffee, the better, both for the coffee flavour and for the condition of the grinder. An ideal construction is the one letting you take out the burrs without having to calibrate the device anew afterwards. All Eureka or Baratza grinders are equipped with this system. It lets you clean the inside of the grinder or change the burrs in a matter of minutes, whereas with other constructions, doing the same thing takes at least an hour.
Grind speed – this parameter has been mentioned earlier in the context of burr size. Of course, the quicker the grinder grinds, the better. The finer we grind, the more time the grinder needs to grind the same amount of coffee. For espresso, the acceptable grind time for catering purposes is under 7 seconds for 15 grams of coffee. Top devices need slightly over 3 seconds for this task.
Cooling the burrs – as they are subject to heavy loads and a high grind speed, grinders for espresso should have this type of amenity. It lets you keep an even grind and a low temperature of ground coffee even in the most heated moments.
Name
Application
Burrs
Adjustment
Grind speed for 15 g (espresso)
Use and efficiency
Easy cleaning
Quietness
Baratza Sette 270
Universal
Conical, 40 mm
Stepless
Around 6 s
Home/Office/Small catering business (Under 1 kg per day)
YES
NO
Baratza Virtuoso
pour-over
Conical, 40 mm
Stepped, 40 grind settings
n/a
Pour-over coffees are a bonus
YES
NO
Eureka Mignon Specialita
Espresso
Flat, 55 mm
Stepless, worm drive
Around 6 s
Restaurants, offices,
additionally, an espresso blend (up to 1 kg per day)
YES
YES
Eureka Olympus 75 AP
Espresso
Flat, 75 mm
Infinite worm gear
Around 3 s
High-volume coffee shop (10+ kg per day)
YES
NO
Eureka Atom Pro
Universal
Flat, 75 mm
Infinite worm gear
Around 3 s
High-volume coffee shop (Under 5 kg per day)
YES
YES
Eureka Zenith 65E
Espresso
Flat, 65 mm
Infinite worm gear
Around 5.5 s
Medium-volume coffee shop (2-3 kg per day)
YES
NO
Eureka Atom Specialty 65E
Espresso
Flat, 65 mm
Infinite worm gear
Around 5.5 s
Medium-volume coffee shop (2-3 kg per day)
YES
YES
Mahlkonig EK43
Universal
Stepless
Around 2 s
High-volume coffee shop (unlimited)
YES
NO
Additional amenities – small features making life easier such as, for example, adjustable portafilter holder, regulation and illumination of the dispensing nozzle, sound-proofing, availability of the burrs coated with Titanium or other materials increasing their lifespan, as well as the most innovative gadgets like a built-in scale or option to adjust rotations.
All those elements add to the final image of a grinder. To help you decide, use the table below.
Grinders for espresso
2,000 – 3,500 zl
For homes, offices or as an additional grinder, the Eureka Mignon Specialita will be a good choice. It is a small, quiet, very sturdy grinder that lets you achieve a very good quality of espresso. However, its efficiency is limited, so if you use more than 1 kg of coffee per day, the Zenith 65E – younger brother of the Olympus, designed for a more intensive work – will be a better choice for you.
The Atom Specialty 65E model is an alternative for the Zenith. It has a sound-proofing system and is a bit smaller than the Atom. Their efficiency and speed are at the same level.
Around 5,000 zl
If you are looking for a coffee shop espresso grinder, the Eureka Olympus will practically always be the best choice – for around 5,000 zl, it offers you an unparalleled efficiency, grind quality and all solutions facilitating work and servicing. In this price range, it is difficult to find another grinder offering that much.
10,000 zl +
For the most demanding users, the solution will be the Nuova Simonelli Mythos ONE. It is a renowned coffee grinder in the speciality world – it boasts 75 mm Titanium coated burrs and Clima Pro technology, which keeps the constant temperature of the burrs regardless of the load. Add to it a regulation and maintenance system we know from Eureka, as well as sound-proofing and LED lights. Those features of the Mythos not only contribute to achieving the perfect grind, but also they facilitate your work and help you make a repeatable brew in all circumstances.
Grinders for pour-over coffee / alternative brewing methods
Under 1,000 zl
For the start, the best choice will be the Baratza Virtuoso – it grinds very thoroughly, is easy to clean and sturdy. Its efficiency is somewhat limited, so if you brew more than a kg of pour-over coffee per day, you may need something bigger and more sturdy.
Around 5,500 zl
The Eureka Atom Pro – this grinder lets you grind quickly and thoroughly a whole lot of coffee, is suitable for every brewing method, so you can use it also as an additional espresso grinder. It is quiet and has the Blow Up system, which facilitates cleaning after every grinding. This is very useful if you offer several types of coffees.
10,000 zl +
The king of heavyweight is the Mahlkonig EK43 – this grinder not only has a unlimited efficiency, but also it produces a grind of incomparable quality. It is right for every brewing method and every amount of coffee. Its disadvantage, apart from the price, is also that brewing espresso in it is less convenient – you need to dose it manually every time, so we don't recommend it as a basic espresso grinder. However, when it comes to pour-over coffee, this grinder is the object of desire of all baristas, especially in its shorter version called EK43s.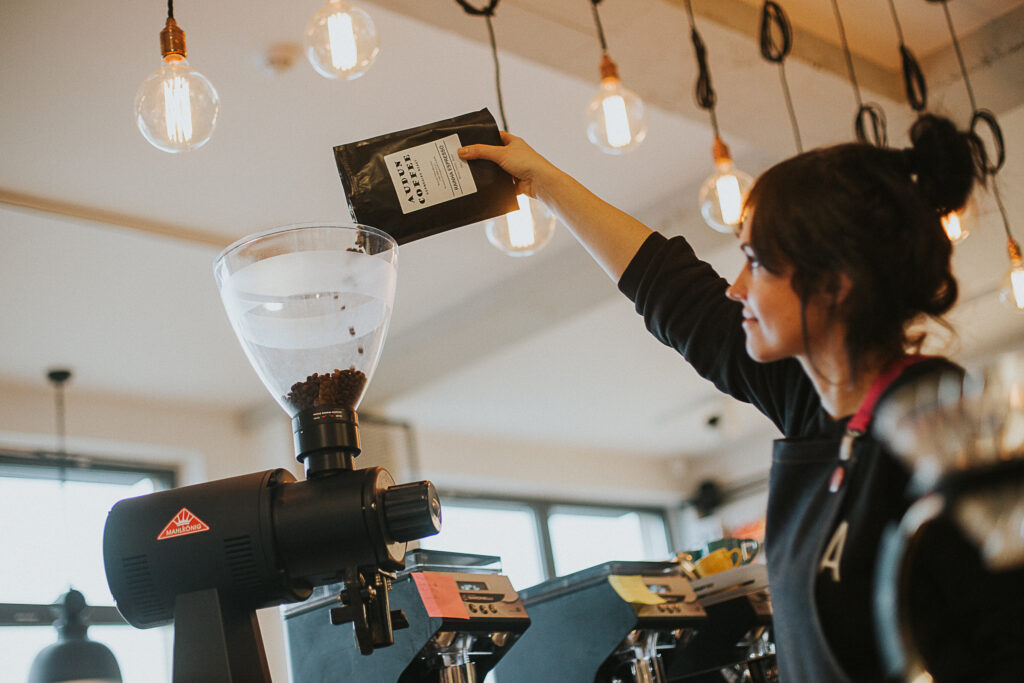 As you can see, choosing the right grinder is neither easy nor obvious. What you need to do beforehand is identify your needs and then compare the devices in terms of their technical parameters. Each manufacturer will advertise their devices as the best ones on the market, but data don't lie, so always look for the information about the grinder's intended use, burr size and their regulation, grind speed, efficiency and how easy it is to clean it. Those key pieces of information will help you make the right choice. Good luck.