Those of you who have already paid a visit to one of our Coffeedesk coffee shops know that brewed coffee is not all that we have in store. The shelves in our cafés are stacked with coffee bags, brewing equipment, travel mugs, porcelain cups, grinders and books. Why? Keep on reading.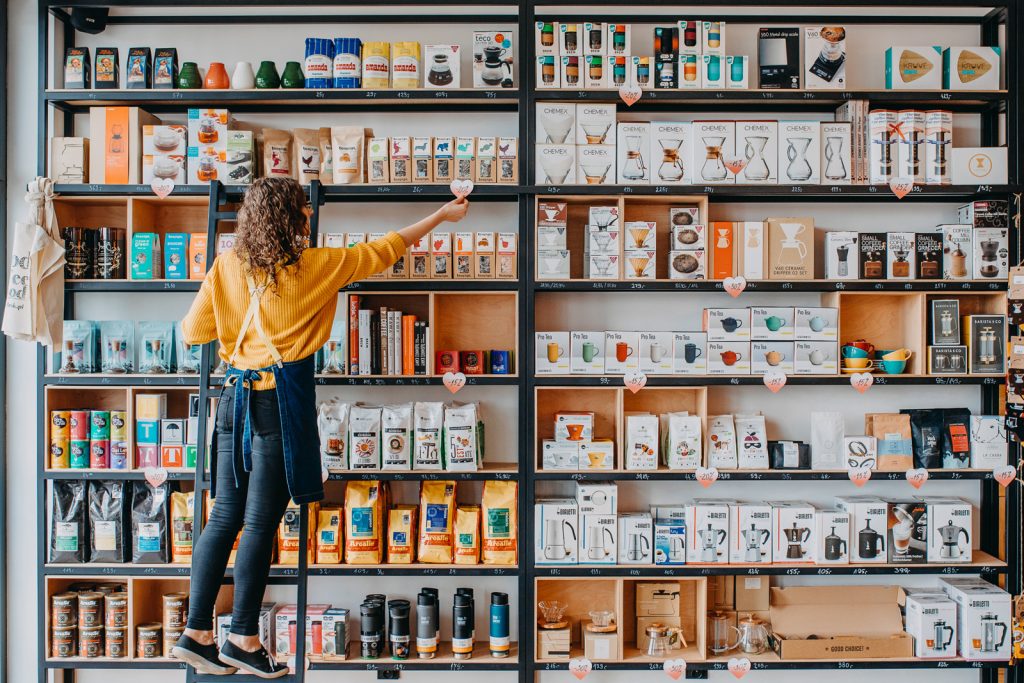 You might think that a coffee shop should profit mainly from brewing coffee and serving snacks. And yet, try to broaden your offer. With high-quality products attracting your customers from the shelves of your coffee shop, your profits can rise significantly. However, if you want to reap tangible benefits, you need to know what products to sell and how to do it. Here are our tips!
Educating Clients
Anticipate your customers' needs. Act before they ask you what coffee you've just made them and then they go and buy it from another trader (simply because they can't buy it from you). By selling retail coffee, tea and brewing equipment, you instil passion for quality brews in your guests, and, also, you make money.
Agnieszka Bukowska, a co-author of the book 'Coffee Spots Polska' and a former manager of a Coffedesk coffee shop says that educating customers is key to the success of a speciality coffee shop
Specialty coffee still makes up only a small percentage of the total coffee consumption in our country. The more people we will encourage to brew high quality coffee at home, the higher standards they will expect from their favourite coffee shops. By selling retail coffee, a café may not only increase its profits, but it can also build its position as an expert, build customer loyalty and make clients come back for a delicious cup of coffee to those spots whose flavour and aroma they can take home rather than to large coffee chains.
Marta Szczuka, manager of the newest Coffeedesk coffee shop in Tamka, has a similar view on the matter:
Retail products help us educate our patrons. They widen their horizons and give room for experimenting with new coffee or tea flavours. Apart from that, our guests can purchase the same equipment we use for brewing coffee. When we make coffee in a dripper or an AeroPress, we show them how easy brewing coffee really is. And when the product is on the shelf, we can simply reach for it, show it to our guests and convince them to purchase it on the spot.
If you are worried that the customer who has purchased a packet of beans at your coffee shop won't stay for a cup of coffee, you are wrong! In our experience, 70% of those who come to buy a packet of coffee, stay in the café anyway. Guests who buy coffee beans are usually regulars and value your coffee shop mainly for the atmosphere you have created. Łukasz Wichłacz, CEO at Coffeedesk, says:
The desire to drink quality coffee at home is something quite different from the experience of going out for a coffee with some friends – those needs don't cannibalize each other.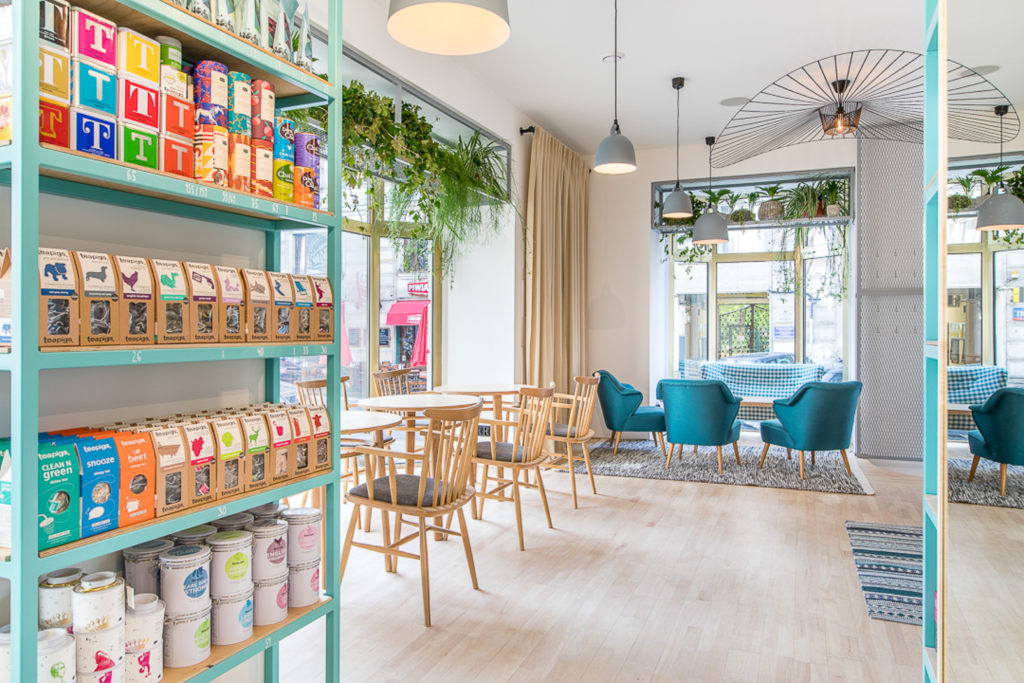 Moving on to Finances: How Much Can You Earn?
In some cases, you can actually earn more on selling retail products than on brewing coffee. At Coffeedesk cafés, coffee brewing equipment and retail coffee sales make up over a half of the coffee shop profits. Sounds good, doesn't it?
Krzysztof Mika, the manager of all our coffee shops, points out the hige potential of retail coffee sales:
In 2022, over 50% of our revenues came from retail sales (from 47% in Kołobrzeg to even 63% at Wilcza street). This means that we earned more on coffee and accessories which our patrons take home than on brewed coffee, cakes, sandwiches and other beverages sold on the spot.
Of course, we don't know if your coffee shop is big or small or whether it is located in a big city or in a small town. However, we are positive that by offering coffee, tea and brewing equipment to your customers you could even double your revenue.
How to Sell Coffee from the Shelf in a Café?
Your customers tend to like the products they are familiar with. For that reason, at Coffeedesk we have set up a shelf with the coffee varieties that you can order at the coffee counter. When our guests enjoy particular coffee, they can take identical beans home.
If you work in a specialty café, you will often make your customers aware that to brew coffee which they drink at your place, they need special accessories. At this point, you should check if you invest enough in educating your baristas. They are the ones who serve customers every day and it is their job to pamper your guests, both at the coffee bar and by the shelf.
According to Krzysztof Mika, emphatic baristas are key to selling on-shelf retail coffee:
How can baristas influence retail sales? First, they should be truly emphatic and open to new customers, and encourage more timid regulars to ask questions. What also matters is storytelling; that is, telling stories about… everything we sell! It is essential to know our products inside out, including details like: Hario in Japanese means 'the king of glass', Teapigs tea bags are made from corn starch, which makes them biodegradable and the AeroPress was invented by a man who manufactured frisbees. Our baristas are also trained from the beginning in the fundamentals of sales, that is upselling and cross-selling, which can be summed up as conscious observation and analysis of our guests' needs.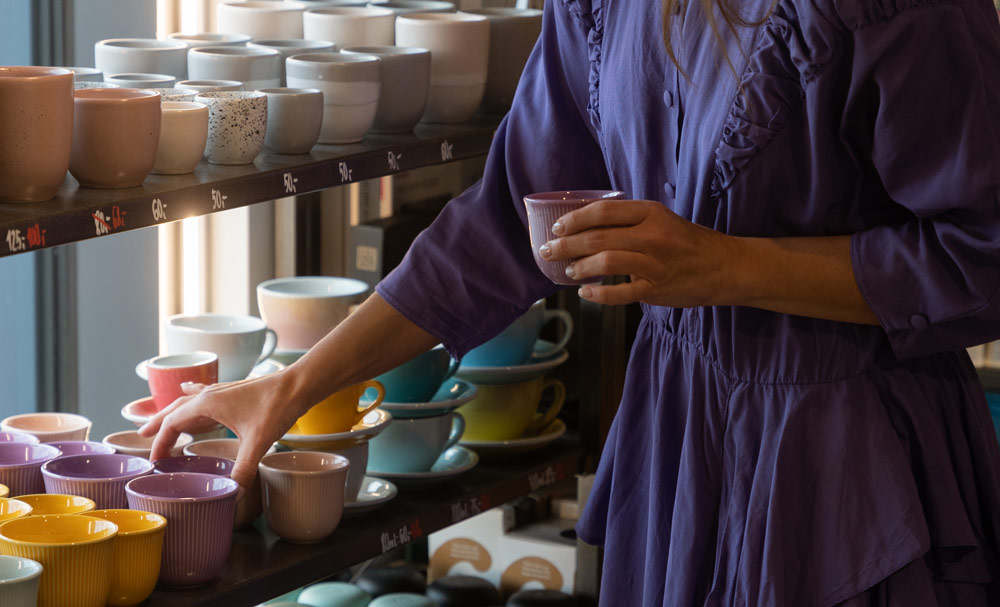 There are a few tricks that can help you sell what is displayed on the shelf; apart from barista's personal charm, you can also use cross-selling techniques mentioned by Krzysztof. How? Whenever a guest buys a brewing device, you can offer them a coffee to match the brewing method. If they buy a dripper, a Chemex, an AeroPress or a Moccamaster, offer them filters – possibilities abound.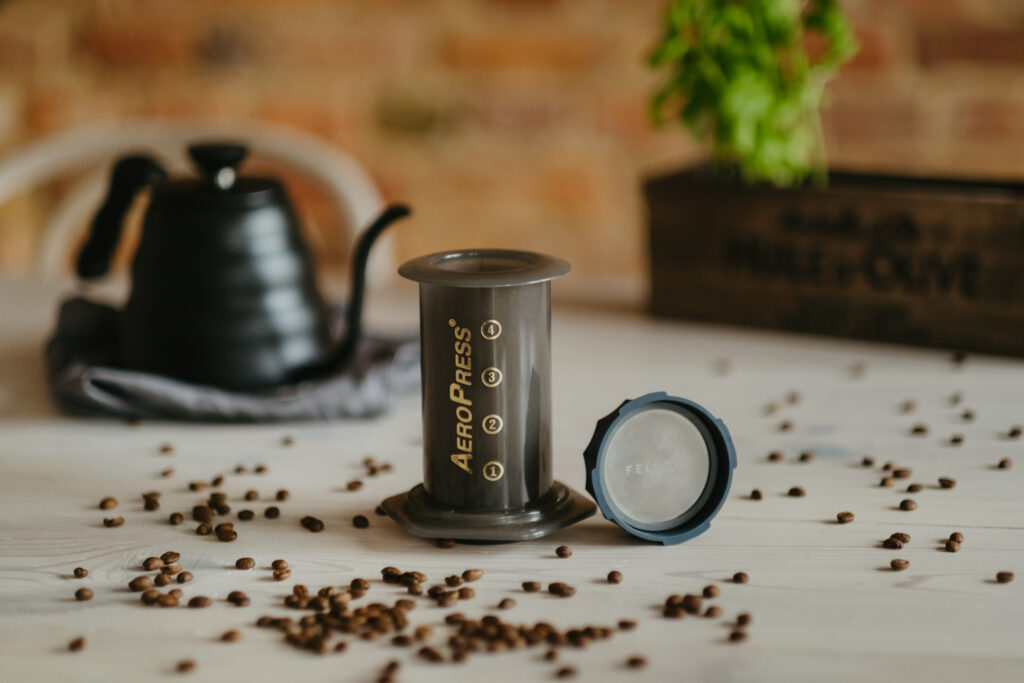 Paulina Krysińska, a manager of our coffee shop in Kołobrzeg, shares another secret to increasing sales:
I've noticed that people are often ashamed or not bold enough to ask questions. One thing that I keep telling our staff is that they should speak loudly and in a captivating way. When you are standing with your customers by the shelf, describing the products or coffees, you want the people sitting at the nearest table hear a part of the story. They will feel intrigued and drawn to the shelf or the coffee counter to ask a question.
What Are the Top-Selling Products in the Coffeedesk's Coffee Shops?
1. Coffee
In 2022, coffee beans made up over 50% of retail sales at Coffeedesk coffee shops. How can you make it easier for you customers to buy packaged coffee? Divide the beans into those dedicated to espresso and moka pot vs coffee dedicated to alternative brewing methods. Another good idea is to divide the beans based on flavour: heavier, chocolate or nutty notes and lighter, floral or fruity notes. Life will just get easier: guests will know where to find what they need, and so will the baristas, slammed with work during peak hours.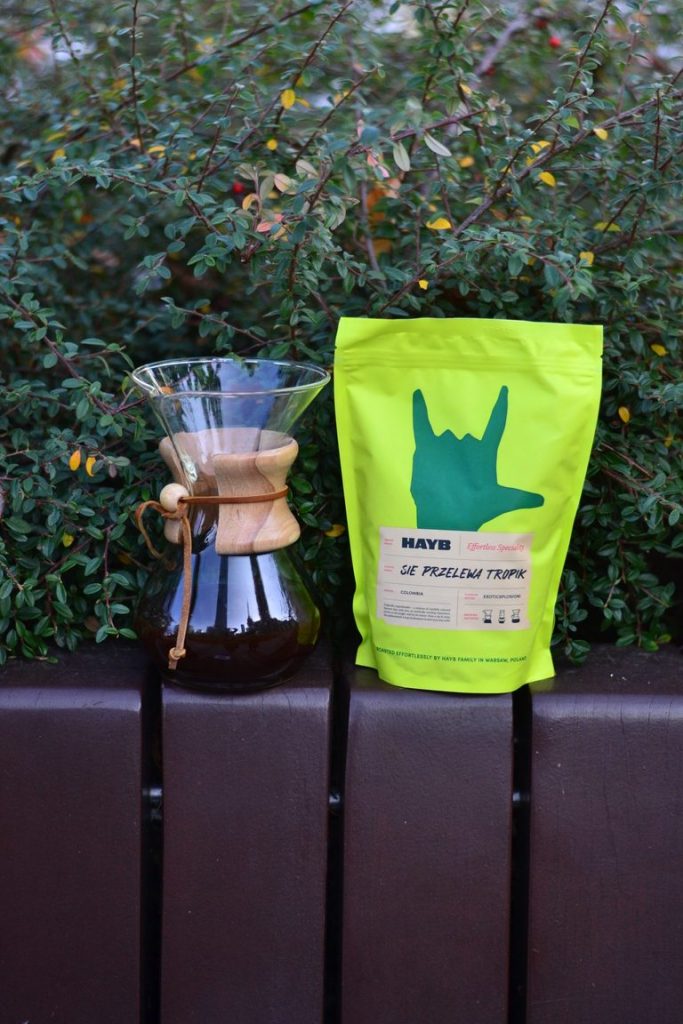 The best-selling brand in Coffeedesk cafés in 2022 was Hayb, a popular roastery from Warsaw. Among the Top 10 retail coffee there were coffees from other Polish roasters: Hard Beans and CoffeeLab. The international hits were coffees from Johan&Nyström and the Italian Arcaffe.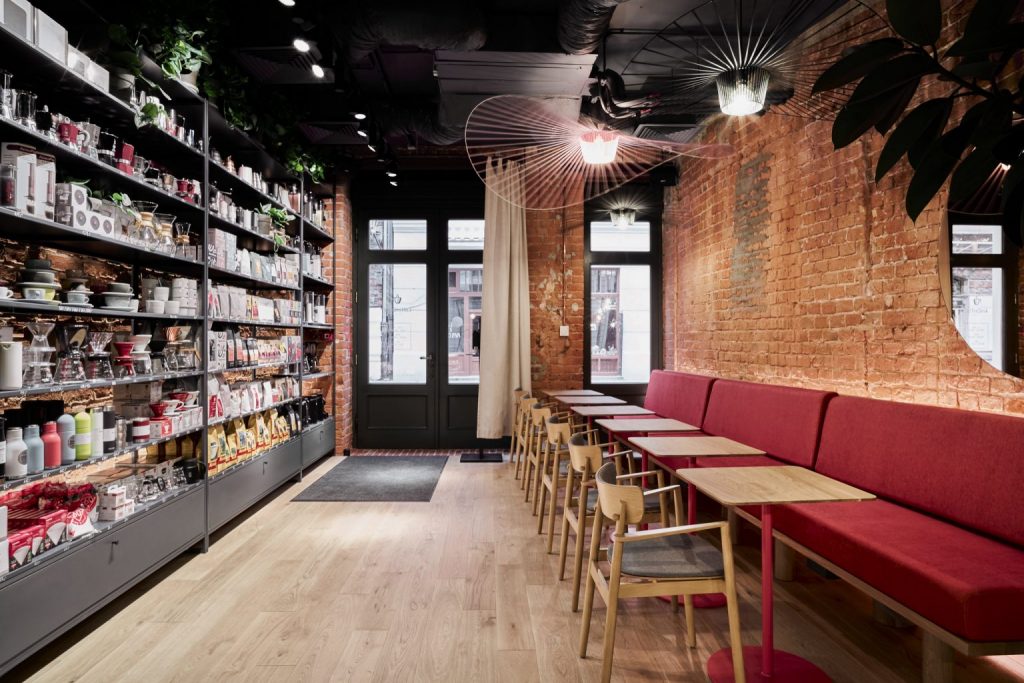 2. Alternative brewing equipment
When you see a drip coffee maker, a Chemex or an AeroPress at a coffee shop, you may suddenly crave to have such marvels at home. No wonder that one of the retail top-selling products is the AeroPress. How can you encourage your guests to browse the shelf dedicated to alternative brewing ? Place the brew bar nearby and give the barista some space to tell their stories about brewed coffee.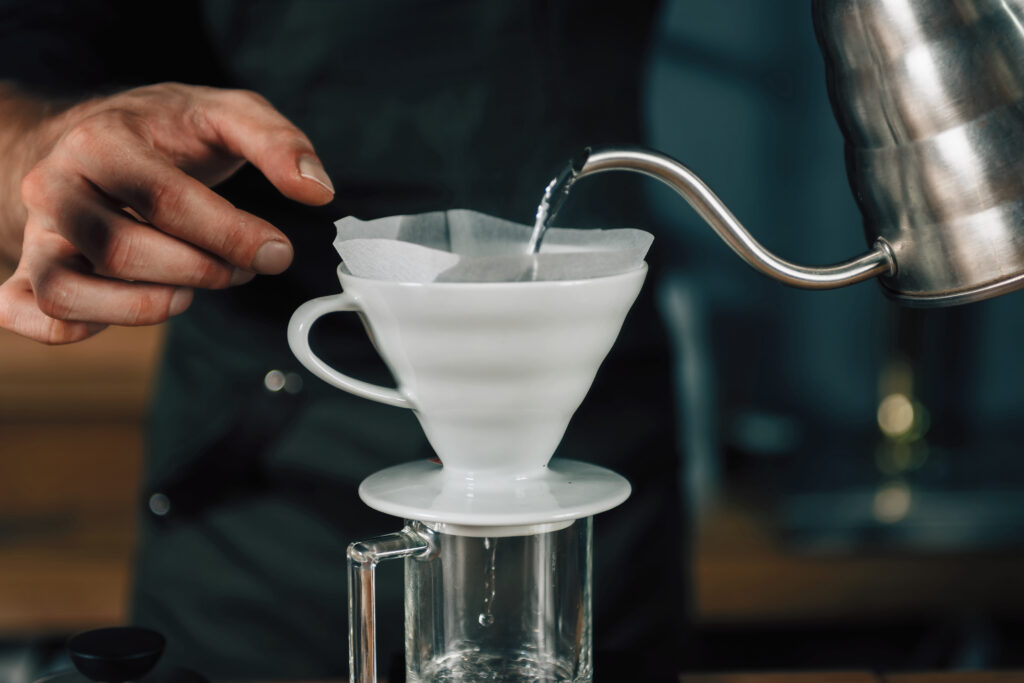 3. Grinders
If you ask any coffee specialist about the most important accessory for brewing coffee, they will almost certainly point to a grinder. Why? Because evenly ground coffee beans are key to well-brewed coffee. Next time a guest asks you to grind their coffee, tell them how freshly ground beans enhance the coffee flavour and point to the grinders on the shelf.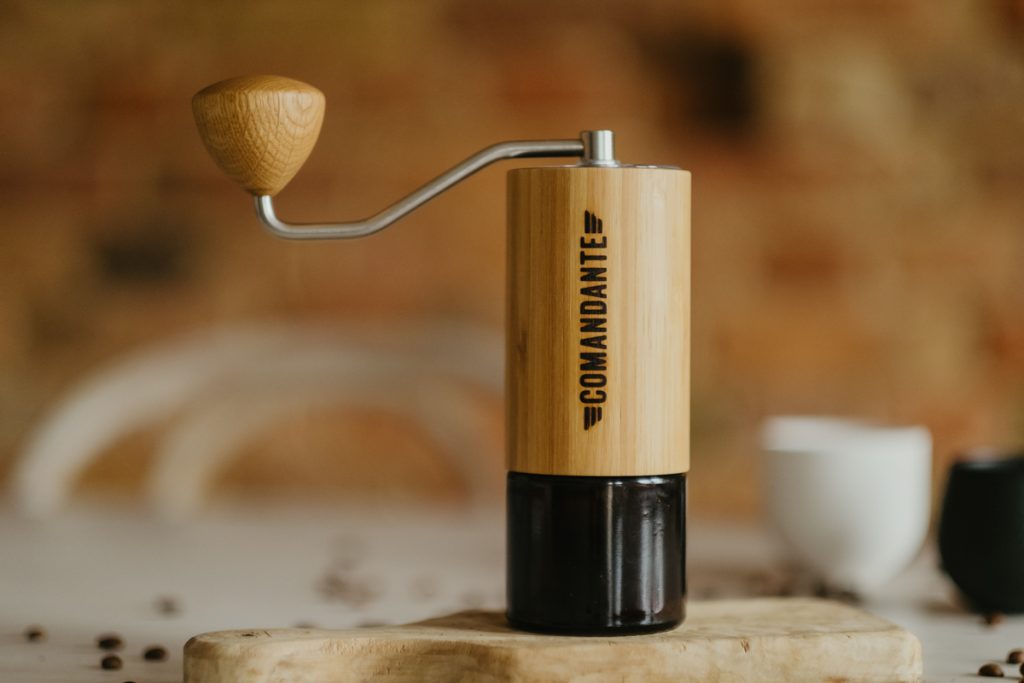 Here are several other product categories with a similar share in sales
Filters
Specialty coffee segment is expanding year by year. More and more of our guests brew coffee at home. Brewers like dripper or Aeropress are usually a one-time purchase, but for them to work properly, you need filters. So, if you offer brewers, you should also sell filters – your customer can buy everything and once and is more likely to come back for another packet of filters.
Reusable and thermal mugs
The zero-waste trend is spreading across the country and initiatives like 'bring your own cup' are increasingly popular. More and more coffee shops reduce the usage of disposable mugs and cut the prices for coffee if you came with your own mug. Taking part in such initiative is a good idea. You can also take this opportunity to encourage your guests to buy a stylish travel mug.
You can also run your own promotional campaign. If you want your customers to keep coming back, offer them a discount when they visit you with a mug purchased in your coffee shop!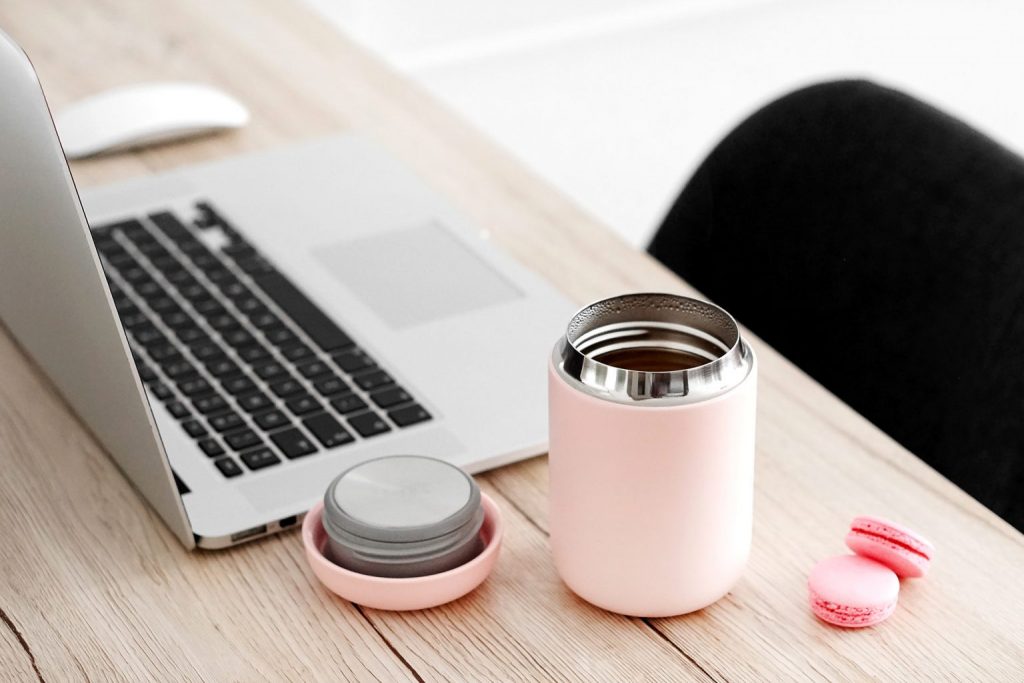 Books
According to American scientists (and, as you know, they are always right) the coffee industry is currently on the verge of the fourth wave, which means that we already know much about coffee and we need to know even more. There is no better storyteller than Jim Seven or Scott Rao and their books can teach you a great deal.
Tea
They say that a specialty coffee lover is at the same time a craft beer, natural wine and high-quality tea enthusiast. So, why not offer specialty tea to your guests? First, they will certainly enjoy it. Second, marvels such as Teministeriet or Paper&tea will surely melt the hearts of their colleagues, mums, aunts and mothers-in-law.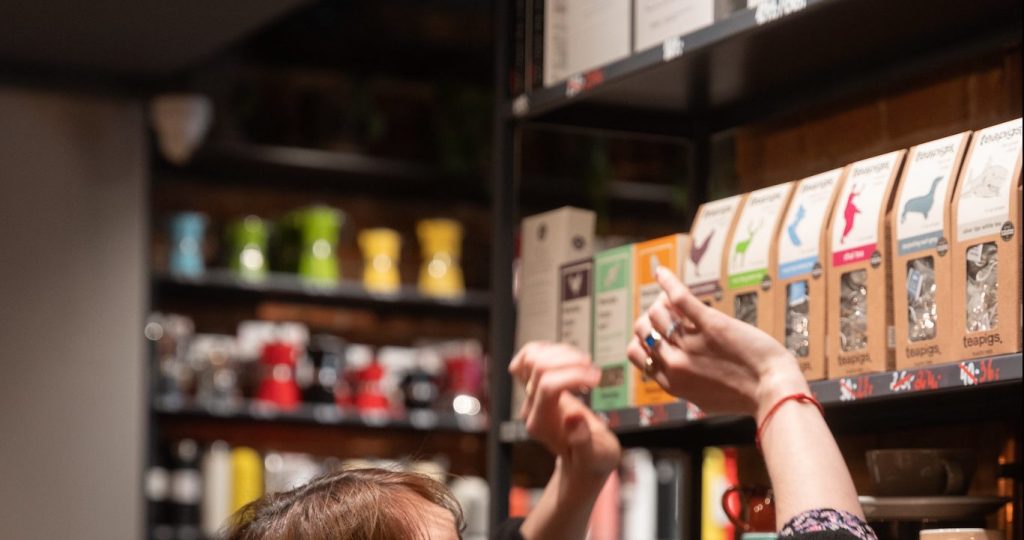 Are You Wondering What Is Best for Your Coffee Shop?
Certainly, not every café should have identical retail offering. Ever since the creation of the Coffeedesk coffee shops, we have focused on quality and matching our products with the needs of our Clients.
Krzysztof Mika on the retail sales strategy at the Coffeedesk coffee shops:
At the Coffeedesk coffee shops and in our online shop we focus on providing excellent service, which is all about listening to our customers and meeting their expectations. We consider all needs and we put product diversity and a wide choice range at the centre. When our customers keep asking about a sweeter coffee variety with chocolate and nutty notes for their moka pot, we try to provide several choices, we don't force the baristas' favourite Kenya coffees on them. We also bring the novelties from our online shop to our cafés to let our customers see and touch the product before they decide to buy it.
Łukasz Wichłacz adds:
Retail sales are among the essential elements of our strategy. They let us combine online and offline selling, as customers come to our coffee shops to see and try products which they can order online later. What's more, they can always ask for advice.
Maybe your coffee shop is not quite as spacious as those of Coffeedesk; in this case you need to limit the number of products sold retail, but it is important to stick to the rule of being attentive to guests' needs and always willing to satisfy them. As Paulina Napora puts it:
Our offering is wide, but we focus on quality. A shelf has to please the eye: it is colourful, clear and, most importantly, regularly restocked. While choosing the products, we take into consideration the preferences of our guests. For instance, as you can see, in Kołobrzeg we sell more coffee for espresso than in Warsaw at Wilcza where there's more demand for pour-over coffees.
As Łukasz Wichłacz says, there's no high risk to introducing retail sales:
Most importantly, starting with retail sales poses no serious risks. Accessories don't get spoiled, they have longer shelf life and can wait for the potential buyer. If you own a coffee shop you have some free space anyway, all you need to do is manage it. The shelf is basically a typical example of an upselling technique. You are going to generate additional revenue by expanding your retail product range.
You don't need to make big investments to start selling retail. For a small coffee shop with limited free space, a sum of about PLN 5,000 should suffice. What should you invest that money in? First, the range of coffees you offer: buy a few coffee bags of each type, display them on the shelf and see how quickly you can sell them. Place a few eye-catching tea packs too, for example from Teapigs. These are perfect gift ideas and an extra decoration of the shelf. Remember about the accessories you use for brewing coffee: an Aeropress, drippers, a Chemex and suitable filters  will be perfect for the start. You're going to need some accessories, too. With that sum, you can afford grinders, scales and kettles from Hario. Don't forget about travel mugs: colourful KeepCups will draw the attention of your customers and won't scare them off with their price.
If you can invest PLN 10.000, you can put on your shelf single  accessories within a higher price range. You can go for Acaia scales, Comandante grinders or coffee makers and automatic grinders. First, try grabbing the attention of your customers with a Moccamaster: this stylish pour-over coffee maker is bound to conquer your guests' hearts with its beautiful colours.
If you decide to seriously expand your offering and are ready to spend more than several thousand euro on various products, you can sell many different tea and coffee varieties, as well as accessories from different brands. Apart from the products mentioned above, you can display stylish Loveramics, books about coffee, coffee servers and jugs. But then you will need more space too.
If you still can't make up your mind about what products would be suitable for your shelf, contact our B2B sales team. Our traders are most often baristas and they know exactly what your customers crave. You may decide to sell only those kinds of coffee which you brew on the spot, but if your coffee shop is spacious and located downtown, it's a perfect place to sell bigger equipment, like coffee makers or grinders.
No two coffee shops are the same! 
Even though our coffee shops in Warsaw are located quite near one another and their offer is similar, they have completely different sales distribution.
Coffee shop at Wilcza has the highest share of on-shelf goods as compared to the sales from the coffee bar. It most likely stems from the fact that it has the longest opening hours and it has been one of the first places in Warsaw to sell this type of equipment on the spot.

Coffee shop at Tamka makes the most of their sales from the menu because it's located in a tourist spot. Its customers are also more diverse when it comes to their knowledge of specialty coffee.
Coffee shop at Próżna is placed somewhere between Tamka and Wilcza when it comes to sales numbers from retail vs menu, but there are also differences in the products chosen by the customers, eg: contrary to Wilcza Café, our guests at Próżna prefer milk-based coffees.
Coffee shop at Bajkowe: the differences in this case may result mainly from the location. The biggest share in the sales of this coffee shop have dark-roasted Italian coffees, as opposed to the rest of our coffee spots, which sell mostly light-roasted coffees for alternative brewing.

If the perspective of higher earnings and the image of a coffee specialist appeal to you, focus on selling retail. But always remember that your success depends on the amount of work you and your baristas put into the enterprise… and, obviously, on your love for coffee!