Cold brew, that is cold macerated coffee, has recently been one of the hottest trends on the coffee market. This category is assumed to have grown by over 26% each year from 2021 to 2025. For reference: CAGR for the whole coffee market (2022-2025) is about 5.3%. The size of cold brew market in the USA alone 5 years ago was $ 166 million, is currently approaching $ 500 million and is predicted to reach $ 950 million in 2025! This data is encouraging enough to make this global trend worth looking into and to use it for the benefit of your own business. Especially that 83% of all coffee brew expenses is supposed to be spent on out-of-the-house consumption – in the cafés and restaurants.
What Is Cold Brew?
Cold brew means that the coffee was literally extracted cold. In this case we don't talk about brewing but about maceration: ground coffee beans are steeped in water for up to several hours, then filtered and poured into bottles, cans or straight into the cups. 'Cold brewing' is not a term limited to coffee, it is also a method of preparing tea or herbs. Apart from the classic cold brew coffee and nitro cold brew saturated with nitrogen gas, Coffeedesk cafés have already served cold brew made of hibiscus or cascara. During Wilcza Café's anniversary we also mixed cold brew with alcohol, creating a new crowd favourite – cherry nitro with cherry vodka.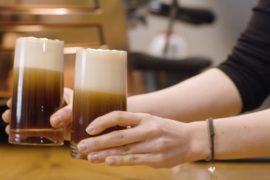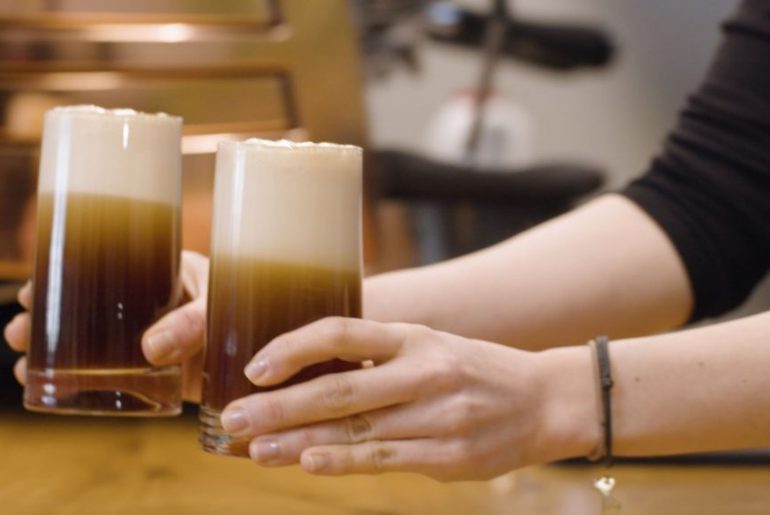 What's Behind the Growing Popularity of Cold Brew?
In most methods of making coffee, water is in contact with ground beans only while it is flowing through them. This is the case of percolation methods like: espresso machine, moka pot or most alternative brewing, like: dripper, Chemex or Aeropress. Cold brew, on the other hand, is an immersion method, where coffee and water interact uninterrupted and all substances and aromas have more time to release from coffee beans to water. This is what gives cold brew its unique aroma, exceptional intensity and also really high caffeine content. After several hours of steeping coffee in water the beverage gets all the best things.
Cold brew became a thing among millennials, whose spending power is much bigger than that of the baby boomers. Millennials love ready to drink beverages (RTD), and cold brew and nitro cold brew are perfect caffeine beverages to carry in bottles. A growing number of fusions and takeovers are noted in this area: big corporations are taking over specialized coffee companies to gain the know-how and meet the increasing market demand for RTD coffee beverages (eg. Nestle and Blue Bottle, JAB and Stumptown or Espresso House, Coca Cola and Costa and a very close collaboration between Nestle and Starbucks in terms of coffee products distribution). Cold brew by Starbucks is available across Lidl in Poland and Cold Brew bottled by Etno Café – in Żabka convenience stores. The sales volume has multiplied. No wonder, this caffeine beverage is a healthy alternative to energy drinks and highly sweetened sodas. Sugar-free and rich in antioxidants, it is also much easier on the stomach.
How to Make Cold Brew?
You can make cold brew in many ways, depending on how advanced your skills are, and, most importantly: how much brew you want to get. There are special high-capacity machines that can meet the demand of the biggest food establishments, like Hard Tanks created by Hard Beans Coffee Roasters from Opole. There is also smaller equipment for medium-sized cafés and restaurants, like Mini Hard Tanks, also by Hard Beans. Finally, there are simple bottles which enable cold brew maceration at the back of every tiny café and in every home kitchen.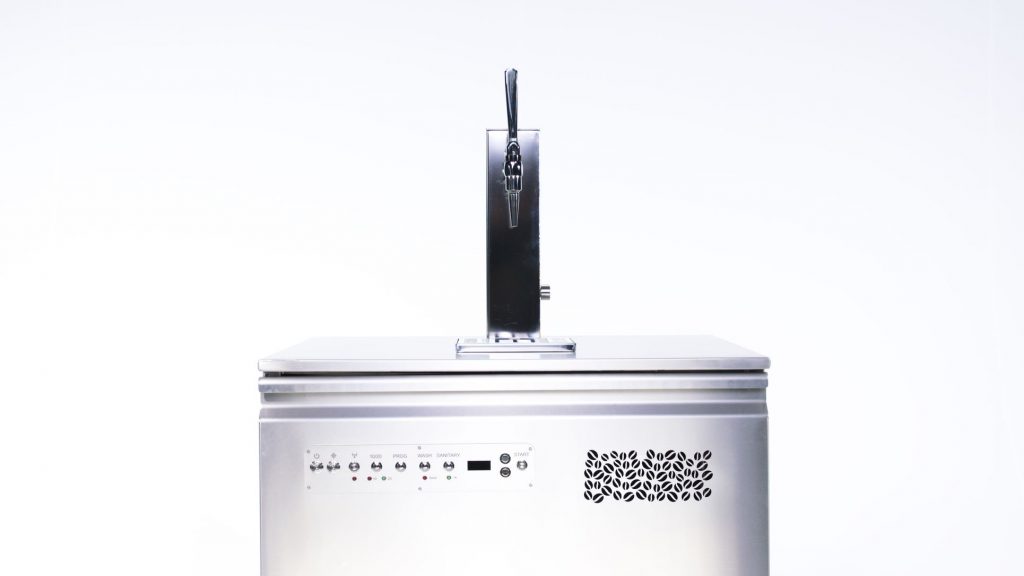 Hard Tank solves the biggest problems of those who prepare cold brew: maceration time and sanitation. Hard Tank creators have a run a ton of microbiological tests on the presence of bacteria, funghi, yeasts or microbs in cold brew to ensure that the machine they created is sterile. The whole process of extraction has been limited to one hour in contrast to several hours in the traditional way, including filtration and cleaning of the equipment. The whole process of machine development is described in this article. It also details how to prepare cold brew in a Hard Tank.
Additionally, Hard Tank Double Tap (as well as Baby Hard Tank with the dispenser adjusted for serving two beverages) enable simultaneous production of cold brew and nitro cold brew, that is fizzy coffee, saturated with nitrogen gas, with Guiness-like texture.
Hard Tank vs Baby Hard Tank
Despite the same technology built in the machines, Hard Tank and Baby Hard Tank serve two extreme approaches to cold brew production.
Hard Tank, that is the big brother, provides huge amounts of the beverage in a very short time. 45 minutes is enough to get about 18 litres of ready to drink product from 1.2 kg of ground coffee beans. This solution is perfect, if you provide cold brew for several food establishments or if you want to bottle the beverage in bulk.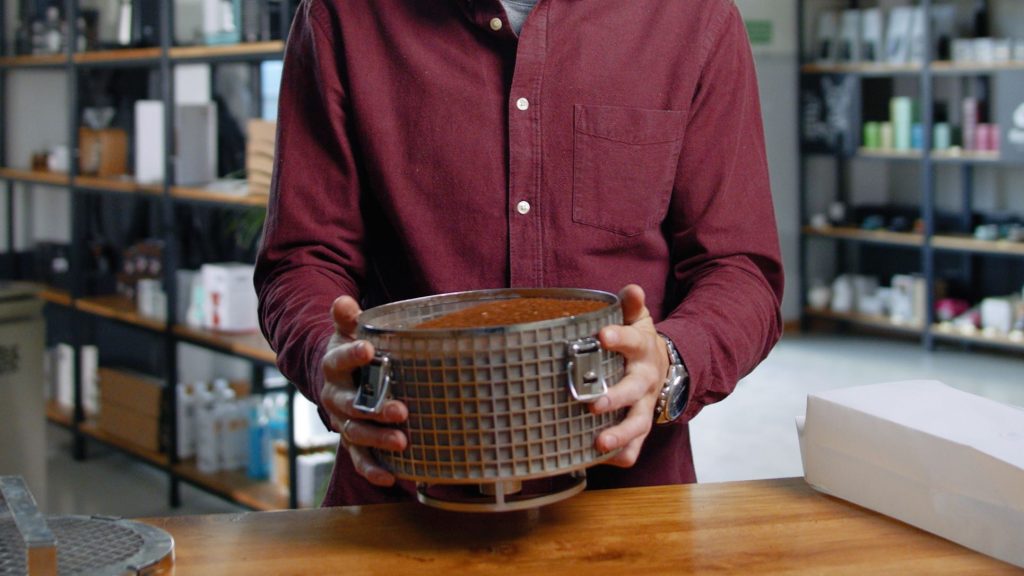 The machine is steered via the front panel, which offers a few options, e.g. cutting the amount of cold brew by half (which requires purchasing a dedicated smaller basket for the beans).
Baby Hard Tank, on the other hand, is the solution for most food establishments that are short of space. It is on-the-counter equipment which produces smaller amounts of cold brew in an equally short time – around 45 minutes. You might say that it promotes a more 'craft' approach to making cold brew. As you use smaller amounts of coffee beans (c. 300g), you produce about 4.5 litres of the beverage. It's a perfect solution for those who want to meet the demand of their business for cold brew production on their own. This machine is controlled via a touch-screen.
Both machines enable producing cold brew from coffee and tea. Baby Hard Tank provides an extra opportunity – if you're licenced, you can expand your business to alcoholic drinks. If you use alcohol instead of water, you can create signature cocktails and liquors with unique texture.
Hard Tank
short production time (about 45 min)
large production capacity (18l of the beverage in the above time)
Baby Hard Tank
short production time (about 45 min)
production capacity perfect for a café (4,5l of the beverage in the above time) – small size
ability to create your own alcoholic beverages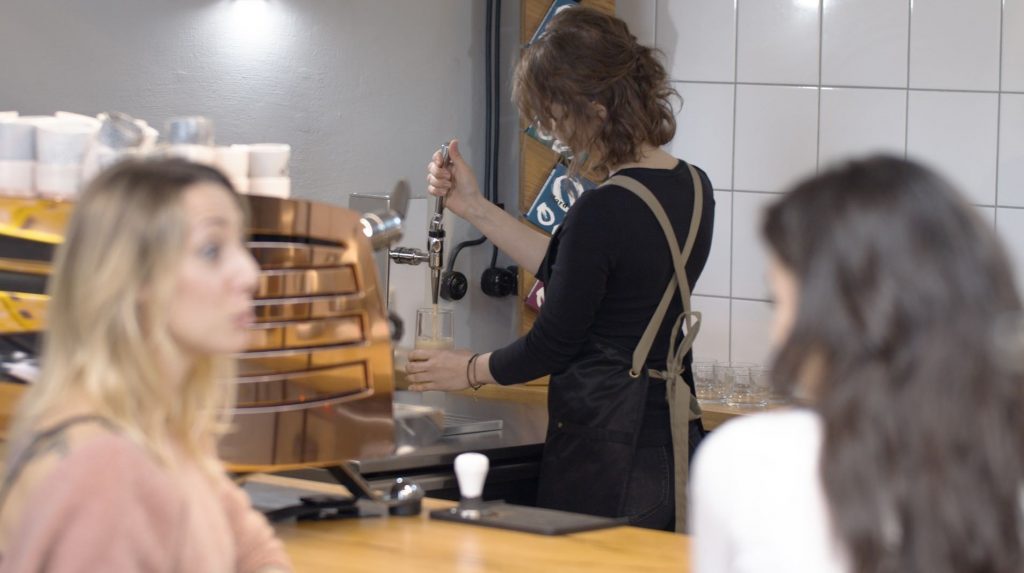 Summary:
Cold brew's popularity has been growing at a crazy pace and it doesn't look like stopping any time soon. This power drink doesn't affect your health – it's sugar-free and rich in antioxidants. It is also outstanding among coffee beverages in taste, intensity and high caffeine content.
We hope that the phenomenon of cold brew is clear now and that we've encouraged you to take advantage of its popularity in your own businesses. If you have any questions, please contact: https://b2b.coffeedesk.com/contact/, we are happy to clear up any doubts and suggest the most optimal solutions for you.
References: