You run a coffee shop and the less waste philosophy is more than just a passing fad to you? Try to implement best practices at your premises; not only will they help the planet, but also they will attract many eco-friendly customers to your establishment! How to start doing business in harmony with nature, produce less excessive plastic waste and create a place 'with purpose'? Read on to find out.
According to WWF, each year we pollute seas and oceans with 10 million tonnes of plastic waste and we use a trillion single-use plastic bags. Over one million animals die each year because of that. Such data leaves more and more people terrified and motivates them to start their journey towards less or zero waste. If you, a coffee shop owner, feel the need to help our planet, try to cut down on the waste produced at your premises.
How do you start an eco-revolution? Without a straw and with your own mug!
The first little step towards less waste lifestyle is to stop serving your Guests plastic straws. It's really simple change that makes a difference.
Straws may seem useless to some people; however, many of us can't imagine drinking a cocktail or cold brew without a straw. But there is something you can do. You can replace plastic straws with reusable metal, glass or bamboo straws. We've also come across more creative ideas; for example, at Si restaurant in Warsaw you get straws made from… pasta!
The next step consists of joining the 'Bring your own mug' initiative. Serving coffee to clients in mugs they bring to the coffee shop (for which you should reward them with a small discount) is a good way to get started and promote your eco-friendly actions.
Another good idea is to promote reusable mugs at your coffee shop. You can sell retail KeepCups or Asobu's insulated mugs and thus encourage your Clients to go less waste, spreading good practice amongst a growing number of people.
What else can you do?
Reduce waste
The first and easiest way to reduce waste at your coffee shop is ditch single-use mugs and lids which cannot be recycled. Paper mugs may seem harmless, but plastic-coated paper is hard to recycle. In Great Britain only 1% of 2.5 million single-use mugs are recycled. Even though purchasing biodegradable mugs with eco-friendly lids may seem quite pricey, it will definitely help the environment. We recommend doing the same with all take-away packaging.
You can also reduce the number of paper towels used by baristas at your premises. Admittedly, paper towels are more comfortable and quicker to use than reusable clothes. The latter need to be washed and for hygienic reasons you should also make sure that they are used just for one specific purpose. You will have to make an effort, create your own system and change your habits, but – the devil is not so black!
Try to convince your Guests to cut down on all single-use products. You can, for instance, place notes about sustainable development near all such objects and encourage your clients to use them only when they have to.
Fix and reuse instead of throwing away
Furniture, equipment, everything that you have at your coffee shop and which may get slightly damaged can be fixed. What is more, most appliances you use at the bar are expensive, so it is worthwhile to repair them instead of buying new ones. You only need a competent professional.
If you think that modernising an old chair may not appeal to your Clients, check out the interior of a vegan restaurant Veganda in Warsaw:
As you can see, some people are not afraid to use old classroom chairs and board tables – this is a genuine gesture toward less waste! At the same time, the is a great example of reuse. Already some time ago it became fashionable to serve drinks in jars or use old bottles as interior decoration (e.g. chandeliers).
Replace the single-use with reusable
At the coffee shop, you have plenty of possibilities for replacing single-use products with reusable ones. Apart from reusable straws, you can also use refillable sugar bowls in place of single-use sugar or sweetener sachets. The same principle can be applied to the popular sachets of products such as honey or jam which can be replaced with glass jars.
Order from environmentally-friendly companies
Order paper and plastic products from environmentally-friendly manufacturers. An example of a company producing eco-friendly disposable tableware is a Polish company Biotrem which has developed an innovative production process of biodegradable tableware made from wheat bran. They decompose in only 30 days!
You can also speak to your suppliers about the way they deliver products to you. Try replacing plastic bags with reusable boxes, or at least reducing their number.
If you serve your guests not only with loose leaf tea, but also with tea bags that they later on brew themselves, you can opt for the brands that serve delicious tea dust in biodegradable packagings, like Teapigs or Paper&Tea.
Make your own compost bin
Much of the waste from a coffee shop (including dregs) is perfect for compost. Setting up a corner with a compost bin can be a major step towards living less waste. What can you do with the ready compost? First, you can use it to fertilise plants at your coffee shop. If you produce more than you need, find a partner who could use some extra compost (for example, a local farming company).
Good practice – what do others do?
STOR Coffee Shop in Warsaw
The owner of the STOR Coffee Shop in Warsaw, Krzysiek Rzyman, says that nowadays an eco-revolution starts in a coffee shop. Apart from reducing waste, using eco-friendly packaging and food suppliers and having its own compost bin, STOR has switched to LED light bulbs, equipped their bar taps with aerators (appliances which aerate water and thus reduce its consumption) and uses only equipment running on batteries.
What else? The STOR team is happy to share used coffee grounds with their Clients who can use them later on to make a natural body scrub. Kuba Turniak, STOR manager, says that you only need to contact the STOR team to get hold of the grounds:
If somebody is interested, they get in touch with us, and we pass them used coffee grounds. We put used espresso grounds into a 1kg desktop trash can so whenever a guest comes to our place asking for used grounds, they can get a lot.
Even though STOR is a great example of a less waste coffee shop, the team says they are still learning. According to Kaja Żurawiecka who is responsible for social media at STOR:
The further you go, the more difficult it gets. Why? The bigger the changes, the harder it is to change your habits. For many years we've been accustomed to using paper towels or throwing away plastic wrappings of mass-produced goods. These are the tiny things that are so hard to change, since they require constant vigilance and being aware of doing what you up to now did thoughtlessly.
Café le 5e in Montreal
Café le 5e in Montreal not only gets rid of excessive packaging and ensures food scraps are not wasted (by composting them, for example), but also it follows the recent space sharing trend. The space occupied by the coffee shop is used also by an organic grocery store: Épicerie Loco.
The coffee shop expects from its retailers to minimise waste, so all products are delivered in reusable containers or boxes. Things that cannot be reused, like milk cartons, are recycled. To further reduce the amount of waste from coffee roasteries, Café le 5e reuses bags in which coffee grounds are transported. When the coffee shop needs a fresh supply of coffee, the bags are sent back to be refilled after a small repair consisting of sealing the material with simple binder clips.
The owners say that the most difficult decision to take was ditching take-away paper cups. Instead, they offer reusable jars which can be purchased on the spot for one dollar. This is a risk which doesn't always pay off, because some clients leave without buying coffee… The majority of Guests, however, accept the policy of the premises, as they believe that more should be done for the environment.
Silo in Brighton
Silo is a British restaurant featuring renovated furniture and tableware from recycled materials. The restaurant has its own composting machine (lovingly called 'Bertha') that processes all leftovers from the restaurant and the coffee shop, turning them into up to 60kg of compost. The compost is then shared with local farmers, used as fertiliser and for growing vegetables such as mushrooms or carrots.
A vital element of the less waste strategy is trading directly with local retailers, which helps you circumvent strict packaging regulations. Wine comes from different manufacturers and is organic, natural and is not bottled. Coffee grounds are collected at the nearest roastery and transported in a plastic box to the restaurant, while coffee itself is served in glass jars.
Silo prides itself on responsible cooking and when making food it uses all parts of meat, fruit and vegetables. What is more, the restaurant doesn't use processed food; on the contrary, everything they serve is produced on the spot, including flour, butter, oats or yoghurt.
It also has its own glass crushing machine which produces powder used for making new tableware.
Coffeedesk Coffee Shops
Coffeedesk Coffee Shops too contribute to the protection of the environment. First, we have replaced all plastic we use at our premises by biodegradable PLA. We are working towards using exclusively plant-made packaging. We take part in the BYOM initiative and encourage our clients to purchase reusable mugs at our premises – we are doing quite well! We don't wrap take-away cakes in plastic or foam, but we use specially prepared cartons instead. In addition, you can always give us your old carton: we will make sure it gets a second life!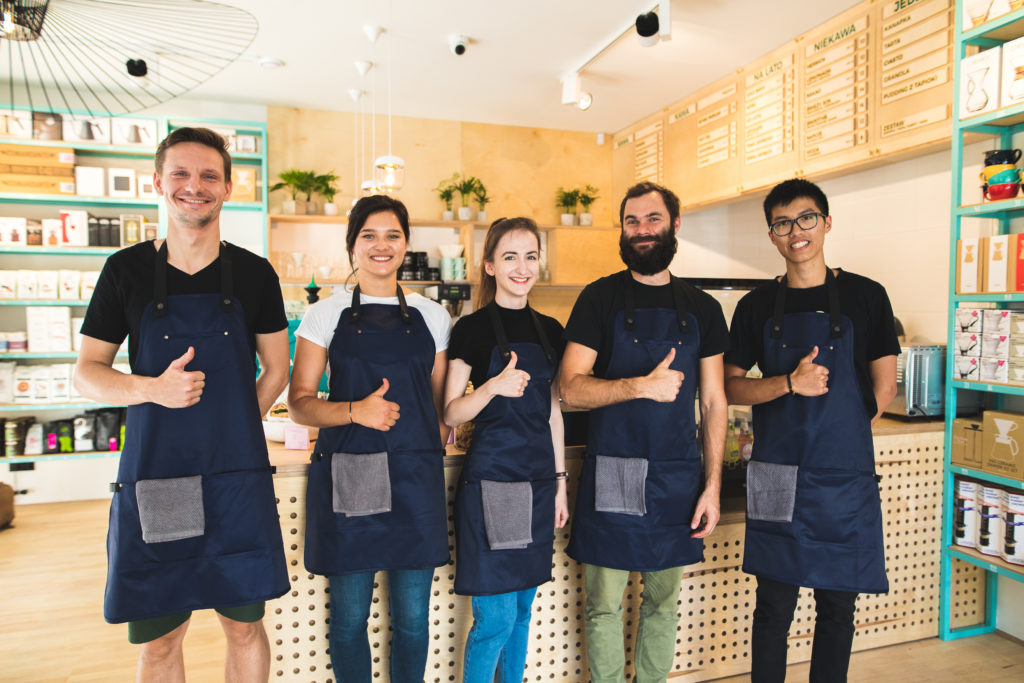 Going less waste is especially suitable for a speciality coffee shop. High quality coffee is usually picked by the most environmentally conscious Clients who are also more sensitive to environmental concerns. If you feel like doing something for the planet, start with yourself and your business. You don't have to make a revolution; a few small changes which prove that your business assumes its responsibility for the Earth's future will suffice. Your Clients will surely appreciate that!
Sources:
https://media.wwf.pl/pr/389430/rocznie-zatruwamy-morza-i-oceany-10-milionami-ton-plastiku-i-zuzywamy-
https://www.cbc.ca/news/canada/montreal/getting-to-zero-waste-montreal-caf%C3%A9-shows-you-how-it-s-done-1.4614812
https://sprudge.com/silo-brighton-99856.html