Eureka! Although many a year have passed since the Ancient Greek 'Heureca' was exclaimed for the first time, every now and then we have the opportunity to get in touch with new inventions and discoveries. It is common knowledge that the quality of the coffee grind is one of the most important issues when it comes to the correct brewing of coffee. Specialty coffee does not fall out of fashion, it's popularity is actually increasing, it is entering our homes more and more boldly. There are more and more places on the market that offer us more when it comes to coffee, focusing on the high quality of the raw beans and on the equipment they use.
The owners of the existing coffee shops are catching up with the latest trends, while the newly opened places largely focus on the top quality from the start. With all this, is it possible not to go bankrupt? As it turns out it is, and without too much trouble. We offer a solution for every place and every pocket, shouting out loud: 'EUREKA'!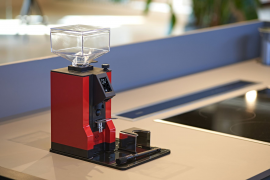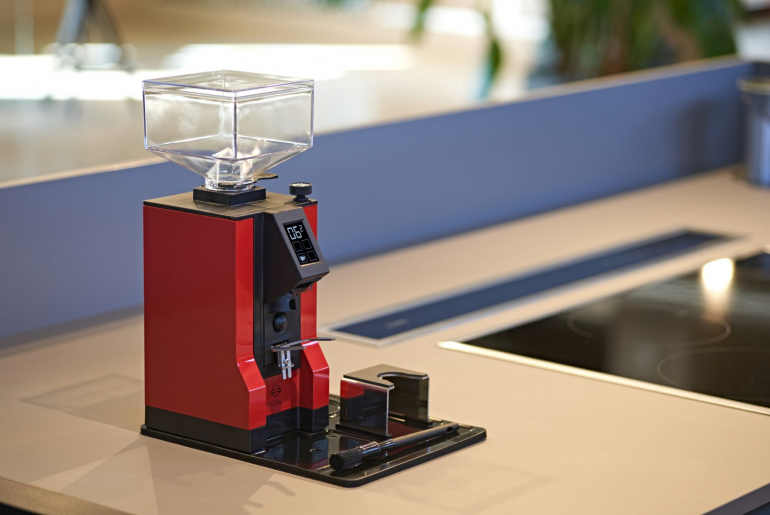 Grinding Quality at Home and in the Café
Since 1920, the name Eureka has become synonymous with high-quality design, look and ease of use in the HoReCa industry. Eureka manufactures a wide range of coffee grinders, from devices typical for restaurants and cafés, to small grinders perfect for homes and small coffee shops.
Each of Eureka's products is designed and built to the highest standards for durability and performance. The grinders manufactured by this company are the result of long-standing work and experience in grinding coffee.
The manufacturer offers a range of universal devices, as well as equipment tailored strictly to specific brewing methods.
Universal Grinders
Drogheria 85 is a commercial high-performance grinder from the Italian manufacturer.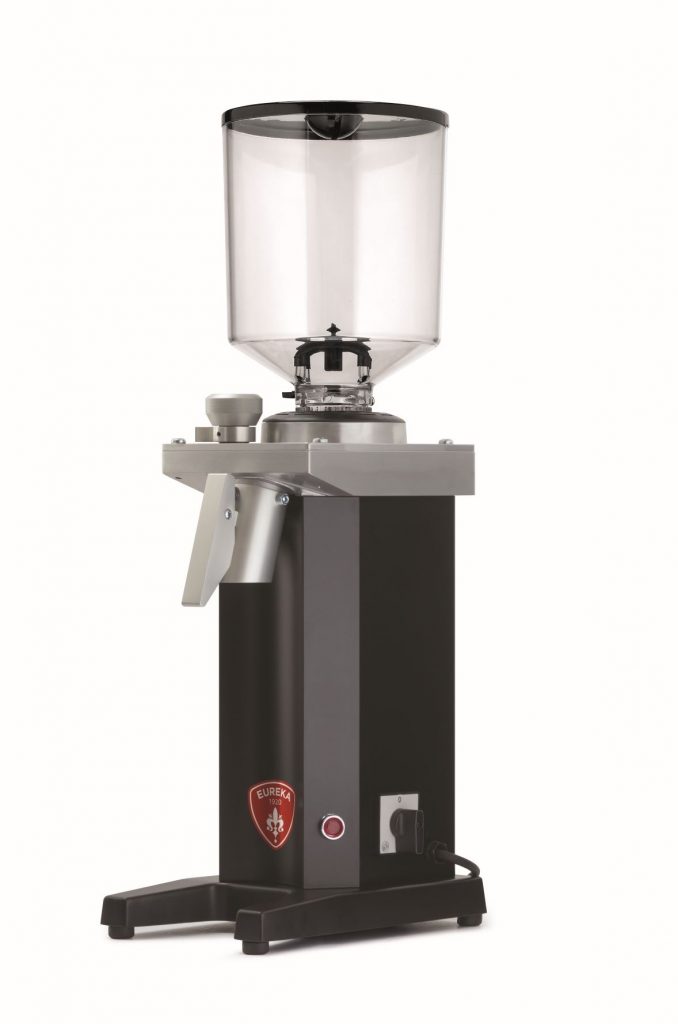 It is perfect for cafés and coffee shops, which is where you grind large amounts of coffee in a short time. An additional advantage is the handle, which allows the beans to be ground directly into the bag. Drogheria is universal, it grinds coffee for all brewing methods. Italian, industrial design, high efficiency and grinding precision – these are the most important features of the Drogheria grinder. Flat, 85mm steel burrs will grind coffee as you need – from fine grinding for Turkish coffee, to espresso grind, to coarse grinding for alternative methods. Adjusting the grinding thickness is extremely simple using a knob with legible markings. The grinder is able to grind about 30 kg of beans in an hour.
Atom 60E is perfect for small foodservice establishments, as an additional grinder in cafés with greater demand, as well as in home conditions for advanced users. It is a universal grinder (you can use it to grind coffee for various brewing methods), but it is especially recommended for espresso.
Atom Pro: an innovative design equipped with a special micrometric screw allows you to instantly adjust the grinding of coffee beans with a stepless knob. Flat burrs made of the highest quality hardened steel grind your coffee quickly, evenly and finely for a perfect espresso every time. ACE system in the Eureka Atom Pro grinder prevents the formation of clumps and guarantees consistency of the grind. The Atom Pro grinder comes with a hopper holding 300 g of ground beans. The optimal capacity makes it a perfect model both for home and foodservice establishments. The Silent Technology soundproofing system ensures comfort of use in all conditions. The Eureka Atom Pro impresses with its thoughtful design and careful workmanship. The applied technologies maximally increase the comfort of use. The grinder is extremely convenient and functional, while being very efficient. It will work perfectly even where you need to prepare hectoliters of aromatic coffee every day. However, there's even more to it than high quality and durable design. The Italian manufacturer of Eureka Atom Pro also took care of a highly original look and ingeniously combined crazy modern trends with the calm and the classic.
Espresso Grinders
Eureka also has solutions for their brand's home country, i.e. Italy, and, as you know, Italy is all about espresso. Espresso grinders include, but are not limited to:
The Olympus 75 NEO: a professional electric grinder. The NEO version uses the latest engine that allows grinding up to 7 kg of beans per day, reduces electricity consumption, uses flat burrs with a diameter of 75 mm and a universal AP fork. It will satisfy the most demanding baristas – it will be perfect for any foodservice establishments which need a high-performance grinder. The device is designed to grind coffee for espresso. This on-demand grinder is equipped with stepless micrometric grinding adjustment. Electronic display, single and double dose setting and continuous grinding function make it very user-friendly.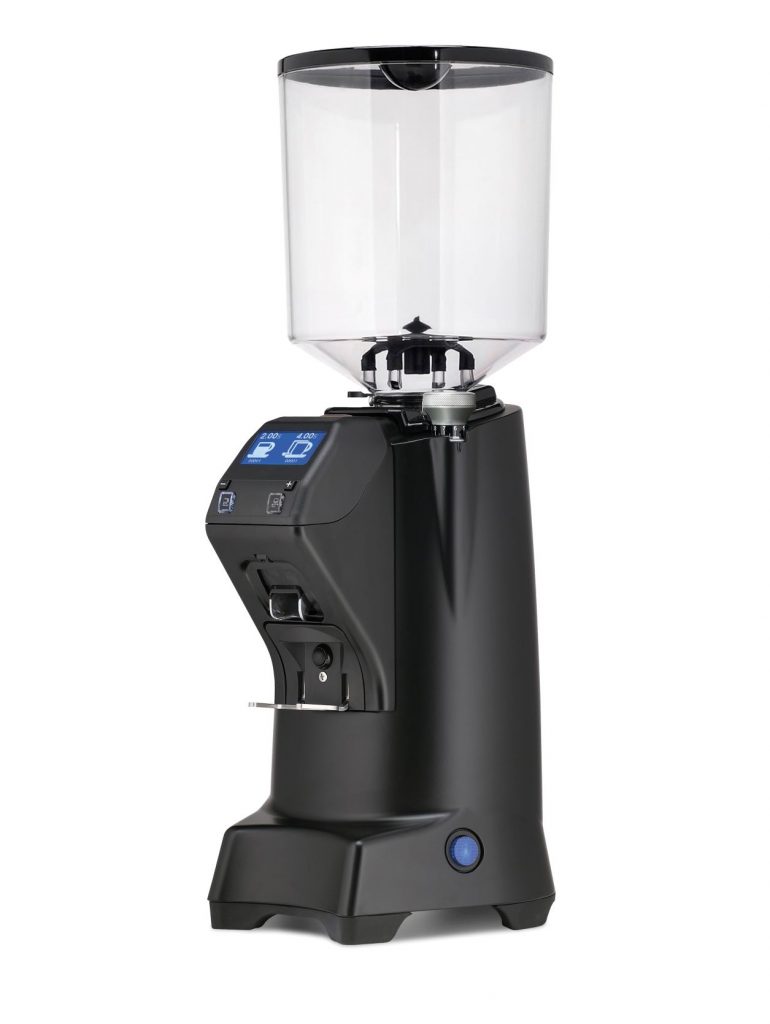 If the amazing design is what you're looking for, the Helios model, which combines amazing modern design and quality of workmanship, will satisfy even the most experienced fans of good looks and quality of workmanships.
And a dark horse among the espresso grinders: Atom 65E! One of the best grinders I've had in my several-year adventure behind a specialty café bar. In good conscience, I can recommend this grinder as an equivalent of much more expensive devices. It can be easily described in two words: speed and repeatability. Both parameters are at the highest level.
Household Grinder
More and more people are investing in home manual coffee machines, which is why Eureka also focuses on the development of home baristas and meets their expectations with the Mignon series of grinders. Those grinders work continuously. On the front they have a fork handle for the portafilter. Above the fork there is a button – pressing it with the portafilter begins the grinding, which is exactly the same as in the case of professional devices. The grinding degree is regulated by a convenient, stepless knob with numerical markings. The grind, performed by a 50 mm flat hardened steel burr is even and repeatable. The efficiency is about 1.1 – 1.5 g / s for espresso grinding and 1.5 – 2.1 g / s for coarser grinding.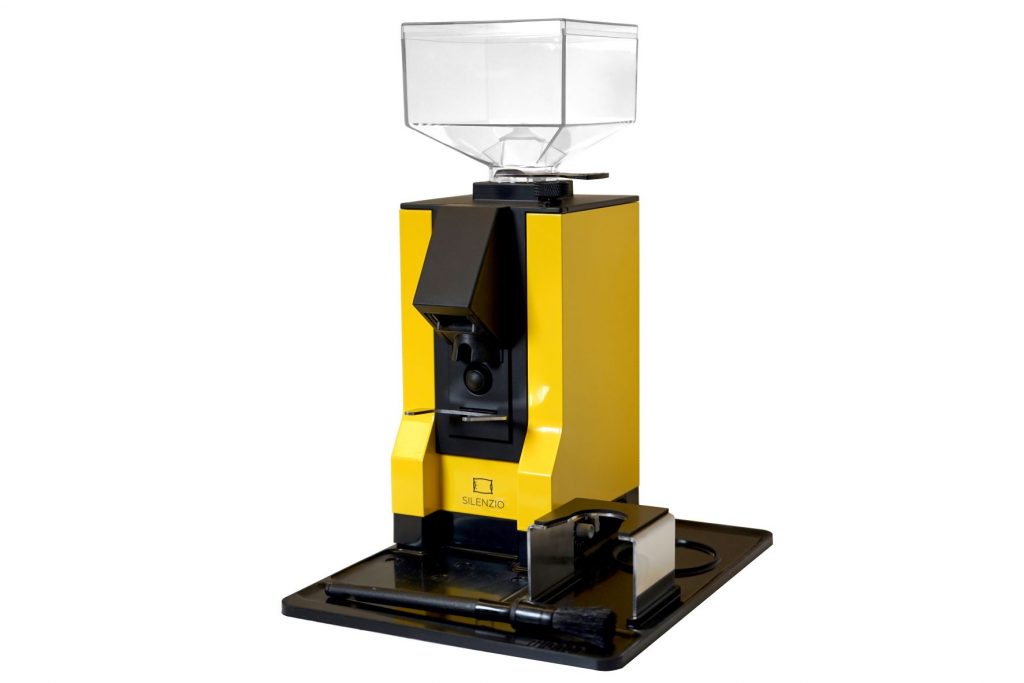 Eureka's offer is very wide, this article does not describe all devices from the Italian coffee grinder reservoir, but only the most popular ones. Eureka is constantly improving and perfecting their equipment, so that we can be sure that they focus on the quality of their products, which are present in more and more coffee selling places.