An espresso machine is often perceived as the heart of the coffee bar and the essential equipment in the whole café. It brews espresso and foams milk, which basically means that it runs the café business. The choice of a proper device is often a long-term decision, which is why you need to carefully consider all the factors that affect it.
Design
At the beginning we need to go over the design and the modus operandi of an espresso machine. In a nutshell, it simply is a water pump with a heater. In other words, the task of an espresso machine is to deliver hot water at a constant temperature and pressure. No more, and no less, which, as it turns out, is not so easy in practice.


Most of the machines available on the market are based on the heat exchanger (HX). In this option, the espresso machine is equipped with a large boiler usually made of copper, which contains water heated to over 120˚C to produce foam used for frothing milk. Inside this large boiler there are smaller water tanks, which do not contain heaters and are warmed with the heat of the surrounding water from the main boiler. Inside those small tanks there is water used for brewing coffee. This mechanism is based, as the name suggests, on heat exchange. Such a system is cheap to produce but it gives no complete control over water temperature and steam pressure because those two parameters are related. So, if you need higher water temperature, you'll also get stronger steam pressure, which might be a problem because it will make milk frothing harder.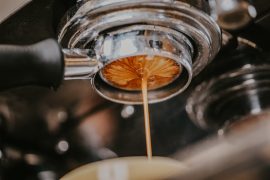 An alternative to popular HXs are dual boiler machines (DB). In the basic version, the espresso machine has two independent boilers: one for steam and the other for coffee-brewing water. Thanks to this, you can set the temperatures separately in each boiler and the large capacity of the boiler with hot water makes it possible to keep the temperature at a more stable level. In this option, the power of steam can be set up freely, just like the temperature of water that will be used for making coffee. Espresso machines with this system are usually equipped with boilers from stainless steel, which is a material preferred for contact with water, but it is also more expensive to produce.
A more technologically advanced option is the so-called multi boiler. In this case, except for the two main, independent boilers for steam and hot water, each brewing group contains an additional boiler with a heater. This allows you to control water temperature for every brewing group separately, which may prove useful for the cafés which serve various types of coffee or experiment with multiple recipes. Multi boiler means full flexibility of temperature settings, but it also means the highest price and the most complicated design, packed with electronics.
The Number of Brewing Groups
The size of an espresso machine is connected not only with its dimensions, but mostly its functionality. The number of brewing groups influences the efficiency of the machine, the size of boilers and the comfort of work.
If you own a spot with low customer traffic, coffee is only an addition to your main offer, or the space on the counter is restricted to absolute minimum, a one-group machine may be a good choice. However, bear in mind it's not very efficient. If you additionally choose an HX option, small boiler capacity may become a problem when you need to deliver, e.g. six or more coffees at once.
Definitely the most popular option is a two-group espresso machine. It is a good mix of efficiency, size and comfort of work. Two-group machines let you serve coffee without interruption and usually two people can work with it at the same time.
However, if you have more space or expect bigger traffic, it's worth considering a machine with three or even four groups. Such huge espresso machines not only ensure the stability of temperature and unlimited capacity, but also a very high comfort of work because they provide more working space for the baristas. 
Temperature control
You recognize the quality of a good espresso machine, among other, by temperature stability. This parameter can be controlled in an analogue or digital way. Most espresso machines in the lower price range have the so-called pressure switch, that is a simple temperature control based on the pressure within the boiler. It acts like a thermostat in an iron, which means that the temperature is not constant but it rises and drops, fluctuating around the desired value. You can only set the thermostat roughly because it has no precise scale and offers no precise reading.
An alternative is a digital temperature control system based on PID algorithm. In this case, the value of the temperature is set through the control panel of the espresso machine and precisely controlled, which decreases the deflections to minimum and saves energy. The most advanced machines contain several thermal probes in various parts of the brewing system, which helps obtain a nearly surgical precision.
Noteworthy is also a control panel for the machine. Each specific model has different versions of brewing control. You can choose from:
Manual (also called: semi-automatic) – extraction is switched on with a simple on/off button – it is not possible to program the dose, each coffee needs to be controlled manually.
Automatic (also called: automatic volumetric – AV) – the most popular way of controlling the espresso machine. Programmable buttons correspond to, e.g. double espresso, ristretto or lungo. Each button can be programmed according to your needs, and the espresso machine will dose the amount of water programmed with each setting. AV system is based on flow metres, which measure the volume of water flowing through the system after pressing a given button. This solution is relatively foolproof and precise, but it requires regular calibration at least once a week.

Espresso machine with built-in scales – this solution is both the most precise and the most expensive. La Marzocco espresso machines are equipped with ABR technology (Automatic Brew Ratio), they automatically weigh the amount of coffee in a cup, allowing for the perfect repeatability of every espresso, and in the case of dose fluctuations they automatically adjust the amount of water so that the proportions in a cup are always identical with the set ones. This is a supreme solution and the only one that offers perfect control over the espresso recipe while maintaining the comfort and speed of the operation of the espresso machine.

You should also pay attention to such add-ons as:

Automatic cleaning program – it saves you a couple of minutes every day;
A timer for measuring the extraction time;
Programmable hours and days of machine operation and an energy-saving mode;
Water use counter – will remind you to exchange the water filter;
Removable showers in the group – to clean the brewing group without the need to exchange the gaskets every single time;
Thermal insulation of boilers – lower energy consumption and better temperature stability;
'Cold' milk frothing nozzle – smaller risk of burns.
Workmanship and Ergonomics

Comparing the offers of espresso machine producers you can spot the differences in the price for similarly equipped machines. However, those prices don't come from nowhere. Your investment in an espresso machine will be a long-term one. More expensive machines from the top shelf are usually built from the best components and put together manually with attention to detail. Their lifespan can be more than 20 years, provided they are maintained correctly. On the other hand, the espresso machines from the lower price range will be made with a huge amount of plastic and cheaper components, and the boilers will be made of brass or copper instead of thick stainless steel. Even if such a machine will be technically efficient after several years, its age and long exploitation time will have a negative effect on its appearance. So, it's worth seeing the machine with your own eyes before you decide to buy it. It may turn out that it's better to invest more and enjoy the equipment for a longer time, which will eventually give a real lower cost.
Remember about ergonomics and pay attention to:

Drip tray – big and easy to clean, will allow comfort of work and using scales for espresso;
Large, durable buttons – will make the work fast and almost reflex;
As few protruding and difficult to clean elements as possible – the espresso machine must shine at the end of every shift, so the easier to clean it is, the better;
A nozzle with a big range of movement – makes milk frothing easier;
Easy access for maintenance purposes – sometimes it is necessary to look inside the machine. A properly designed device will allow for a fast and problem-free diagnostic or repair without dismantling the whole machine;
Good quality of steel elements – it might be hard to believe, but sometimes the edges are done so carelessly that your employee might hurt themselves;
A display with the most important data, such as: temperature in the boilers, extraction time, hour, and clear and understandable service messages.
What to Choose?
Let's look at several propositions that will be suitable for various situations.1.Coffee as an extra: restaurant/bar/office/hotel lobby – wherever coffee is not the main product and its consumption is small (below 0.5 kg per day), the solution is Nuova Simonelli Musica. It holds solutions known from professional espresso machines, such as: a heat exchanger (HX), a 58-mm brewing group, a strong milk frothing nozzle, all in a small and beautiful body. What's more, there are two versions of the machine: with water connection or with a 3-litre water tank. It is complemented with programmable buttons that make the work easier and the extraction repeatable, all within a budget below PLN 8,000.
2. Small café /restaurant, a small early-stage business – the budget is the main factor here and the decisions must be very well-informed. A good choice will be Sanremo ZOE or Promac Green Plus ME. The prices start from PLN 16,000 for the automatic, two-group version. They are simple in design and reliable, available also in a compact version perfect for the limited space at the bar when you still need more than one brewing group. These models also have an automatic cleaning programme, and Promac has electronic temperature control and digital interface (version Plus ME). They are reliable, easy to operate and resistant to difficult working conditions, while being easy and cheap to maintain.
3. Specialty café / a spot with high customer traffic / boutique hotel / luxurious restaurant – those are places with higher requirements concerning the quality and design of the devices, as well as the coffee itself. The answer to these needs is a world-class leader and a standard among top-shelf espresso machines, that is: La Marzocco Linea PB. This machine was created over 30 years ago and is constantly modified to meet the rising demands of the customers. The machine has two boilers and it is possible to order it in a multi-boiler version. All elements are made of supreme stainless steel which guarantees durability for decades to come. Linea PB has the most sophisticated system of temperature control, the best milk frothing nozzles on the market and the possibility to set up the equipment with, for example, an ABR system, that is built-in scales providing the highest precision with espresso extraction. This espresso machine is a class of its own and a guarantee of comfort of work and reliability.
4. High-end espresso machine – La Marzocco Strada. The model created in cooperation with top world baristas. Not only does it look smashing, but each of the available versions has innovative solutions unique in their class. Each version of La Strada contains independent boilers for brewing groups, a large drip tray with adjustable height, as well as open groups which make the work faster and easier. Additionally, depending on the version, you can enjoy pressure profiling – manual or automatic, cold nozzles with smooth power regulation, ABR system and wide range of possibilities for visual adjustment of the machine to your own preferences. La Strada on the coffee bar is a sign for every coffee fan that in this venue coffee is taken seriously.

Facing the dilemma concerning the choice of equipment for several thousand zlotys, it's not easy to make the right decision. Each producer and dealer says their machines are better than those of the competition. In reality, however, the majority of Italian espresso machines are built from the same or twin similar components, and the quality of brewed coffee largely depends on the quality of the grinder and the technique of the barista, not on the espresso machine itself. Only the top-shelf brands offer original solutions that bring out better taste of coffee, better comfort of service and long-term durability. Of course, this entails higher price, but the thing is serious. After all, it concerns the heart of the café, doesn't it?