Investing in employees is the best you can do for your business, no matter which sector of HoReCa industry you operate in. Even though it may sound cliché, real-life examples show that improving your employees' skills is what most affects product quality, customer service and sales rate.
In recent years, the HoReCa market has definitely been the employee market. Labour shortages make recruitment challenging. If you work under time pressure, it's difficult to find experienced experts for the job. Therefore, employees are recruited from those who are either joining the labour market or changing the industry. Both experienced people and newbies can benefit from skills trainings no matter their work experience or level of knowledge.
Why Is It Worthwhile?
Expanding knowledge and acquiring new skills through training brings tangible benefits on many levels:
Higher quality of products – coffee is a specialized product, which is obvious for anyone who has ever tried to set a coffee grinder, draw a latte art pattern or properly brew coffee in a dripper. Well-planned training path will enable baristas to serve beverages of a higher quality and retain a repeatable, high level of sold products.
Lower loss and higher efficiency – a well-trained barista makes fewer mistakes while preparing orders, thus limiting product losses and saving precious minutes of work, which raises efficiency and decreases waiting time for orders.
Better customer service – a barista with a broad knowledge is happy to share it with the guests and with good workflow they can spare them more precious time. This builds up trust and makes the guests feel well taken care of and gives them a sense of money well spent.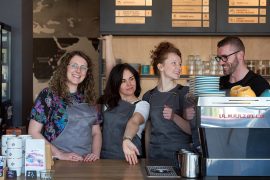 Higher sales – talking about money: dedicated and trained staff is also well aware of the principles of effective sales – cross-selling, up-selling and other selling techniques help increase turnout just like the quick realization of orders and a smile on the barista's face. All these factors link tightly together to make it possible to serve more guests and increase the regular customer base.
Lower maintenance costs for the equipment – properly conducted trainings teach not only how to handle coffee or tea, but also how to handle the equipment needed to prepare them. Cleaning, exchanging operational elements, diagnosing problems, controlling water parameters or servicing intervals are issues discussed on trainings. They teach employees to take better care of the equipment which makes them earn a living.
Smaller employee turnover – this effect of investment in trainings is at the same time an argument against them. How is that possible? Employers are afraid that they will invest certain amount of money in a young employee who will leave them after a couple of months and work for the competition that will get a trained employee 'for free'. This situation is possible only in one case: if you've already hired the wrong person. In all other cases, a working training system will be a magnet for job applicants. Showing them that you invest in their progress, you give them a clear sign that you care about their satisfaction and long-term cooperation. It allows them to maintain the highest levels of motivation, team work and a sense of actual career development. This effect can be strengthened with the so-called 'liability waivers', that is two-sided agreements, in which the employer commits to paying for the training if the employee commits to working for them for a specific period of time. This increases the sense of responsibility and loyalty on the employees' part.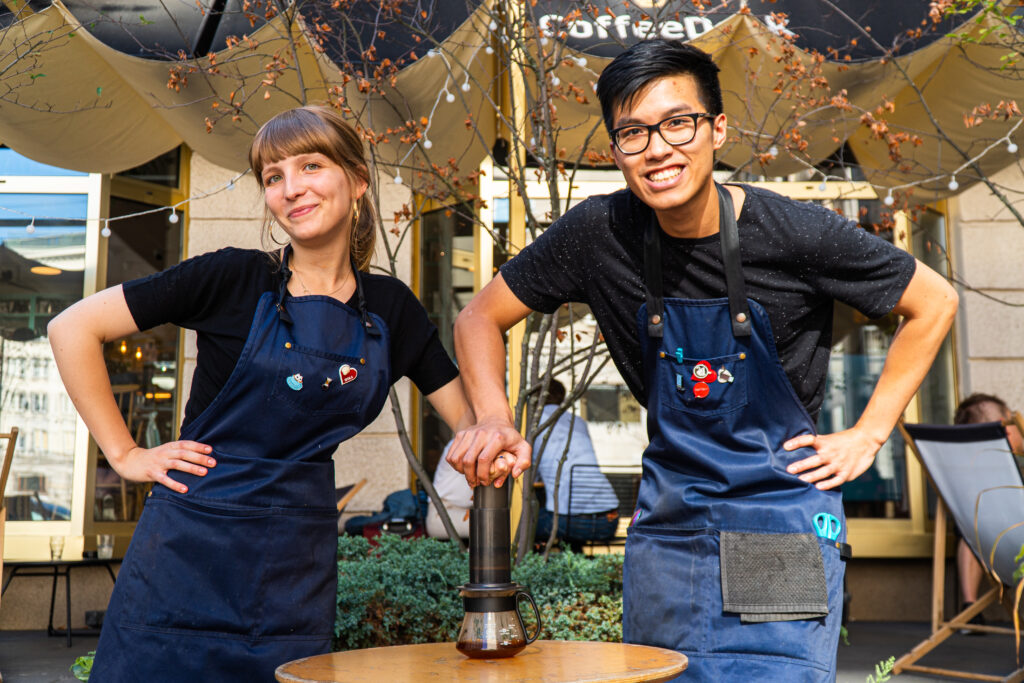 PR benefits – efficient and effective training system may not only be a magnet for new employees but also a wonderful image-shaping tool through participation in coffee championships. It's not only a chance for the baristas to become famous, but also kudos to their workplaces, which make it possible for them to compete in these events. And if all goes well, you can boast that your guest are served by the Polish Barista Champion, who also happens to train the rest of your staff. Who wouldn't like to drink an espresso from a winner?
How to Do It Well?

Spending money is not enough to enjoy the benefits listed above – you need to do it smart. What does it mean? 
Plan the range and dates of training in advance

Before your team gets a barista training, you need to think through what skills they need to gain and in what order they should learn them. Coffee is a very broad subject – you need to learn not only how to brew and serve it, but also know its sensory profile, gain theoretical knowledge and understanding of the market and coffee supply chain, all on many levels of proficiency. What is more, it takes time and practice to absorb information passed on by the instructor. So, it's not possible to get a 'thorough' training and apply a large dose of knowledge in a short time because you get overwhelmed with the amount of information and lose your learning capability.

What is more, the training plan should be designed even before the opening of the café. First of all, you need the time to assimilate the knowledge, and, second of all, you need to estimate the costs. If the business plan doesn't include trainings at the stage of investment preparation, then a few days before the opening you'll face inexperienced employees who don't know how to prepare orders correctly and how to talk to clients or communicate within the team. One or two experienced employees are not able to keep on teaching the rest of the team on the go. Negligence and bad habits formed at the onset of café's operation will soon be reflected in low guest rating and, consequently, will lead to the drop in turnover and a fast outflow of cash which is essential in the first months after opening. Each experienced instructor knows which skills are absolutely necessary for the staff at the beginning and which direction they should be pushed to develop further. Planning the training schedule for the whole year is not abstract, it's necessary, especially for the newly formed foodservice establishments.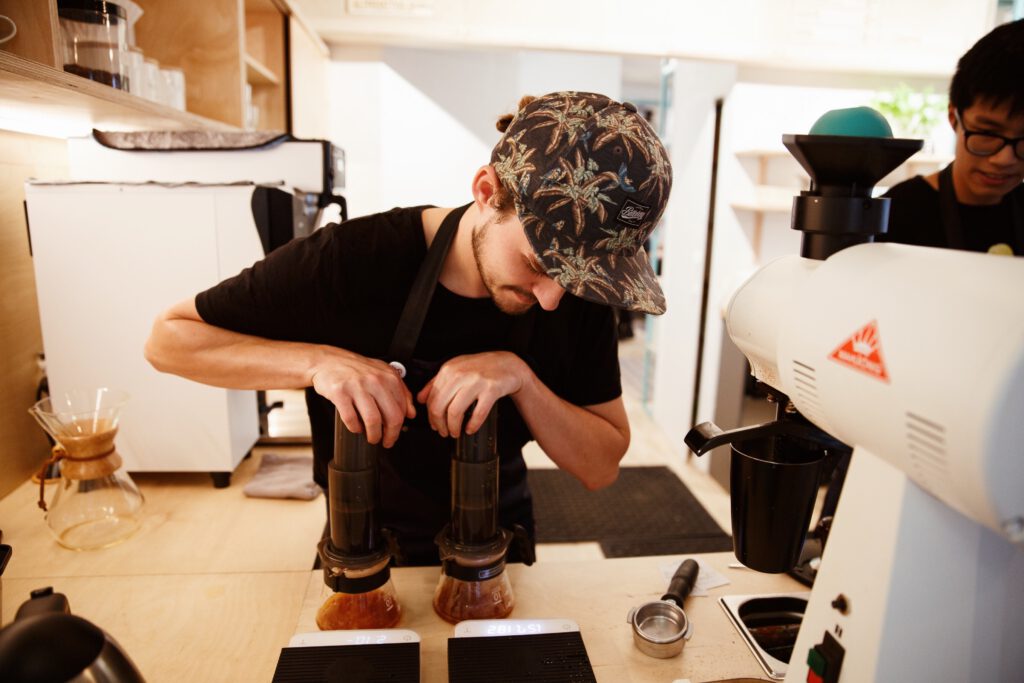 Choose adequate trainings

How should you know if a given training organisation offers product with a proper price/quality ratio? There is only one global system of coffee training created by the Specialty Coffee Association, called Coffee Skills Program (CSP). Courses within this system are divided into theme sections, with three proficiency levels in each:
Introduction to Coffee – tackles basic issues in five modules:
Barista Skills – perfect for baristas, it concentrates on working with espresso machine and on customer service;
Brewing Skills– issues connected with coffee extraction and alternative brewing methods;
Sensory Skills – sensory analysis of coffee, quality assessment, knowledge of its attributes and defects, developing sensory skills;
Roasting Skills – module on coffee roasting, roastery management, raw coffee provision;
Green Coffee – practical and theoretical information on raw coffee – learning how to recognize defects, measuring control parameters and various issues connected with sensorics.
Each module, except for the Introduction to Coffee course, is available at three proficiency levels, and the training on subsequent levels is longer and concerns more advanced aspects of a given area:
Foundation Course – basic level for people who are not experienced in working with coffee.
Intermediate Course – intermediate level is suitable for people with at least one-year experience in working with coffee. It guarantees acquiring skills necessary for independent work on the position equivalent to this module.
Professional Course – advanced level, after completing the intermediate level from the same module. This level provides the most detailed knowledge and allows to train less experienced employees and manage certain aspects of everyday job independently. For instance, an employee who passed the Barista Professional exam will demonstrate skills necessary for the head barista position: control over recipes, product quality, choosing equipment, water parameters, quality service standards etc.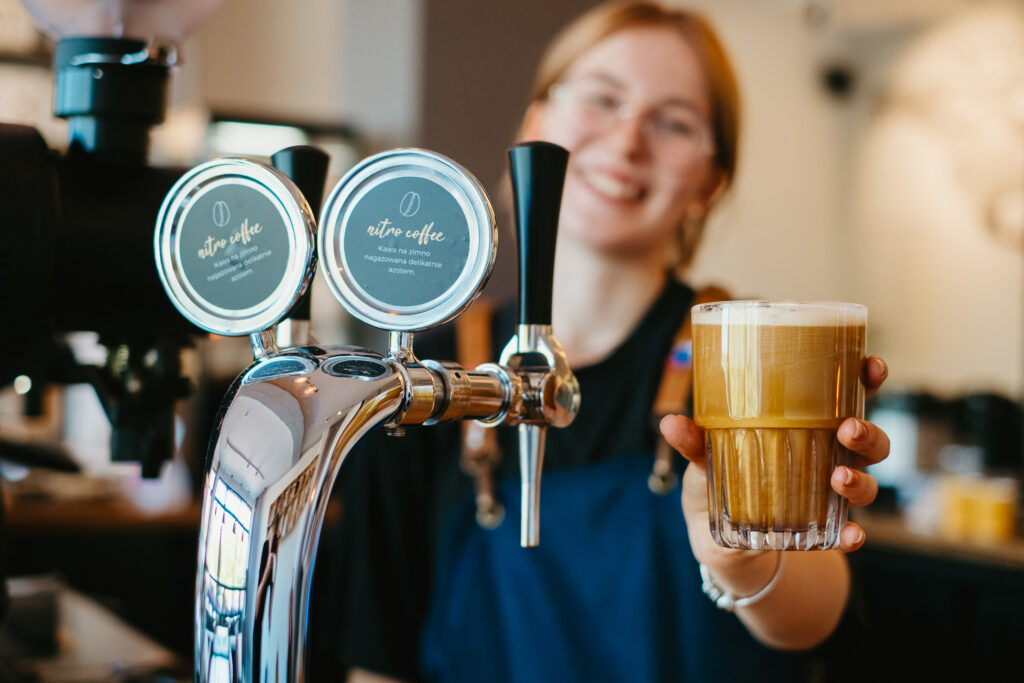 Having completed the training, participants take theoretical and practical exams and when they pass them, they may apply for the certificate honoured all over the world. The classes can be conducted only by Authorised SCA Trainers (ASTs) who are assessed every three years when their license is renewed. The syllabus of the programs is unified and created by the most famous educators all over the world and the teaching methods for courses are science-based. These are definitely not the cheapest trainings on the market, but they are sure worth their price. There are a couple of training centres for Coffee Skills Program in Poland, and Coffeedesk is one of them. A sample learning path for your employees before opening a café might be as follows:
Day 1 – Introduction to Coffee: information on coffee, its production, history, factors influencing its taste, price and quality. Cupping of coffees from various regions around the world, introduction to sensorics and description of development opportunities within the CSP system.
Day 2 – Barista Skills Foundation: the basics of espresso machine operation: preparing espresso, foaming milk, preparing espresso-based beverages, cleaning and maintenance, customer service, health and safety regulations.
Day 3 – Brewing Skills Foundation: the basics of coffee extraction, factors influencing the taste of the brew: proportions, grind size, extraction times, temperature, brewing technique; overview of brewing methods, the basics of sensory analysis, information about water and its influence on extraction.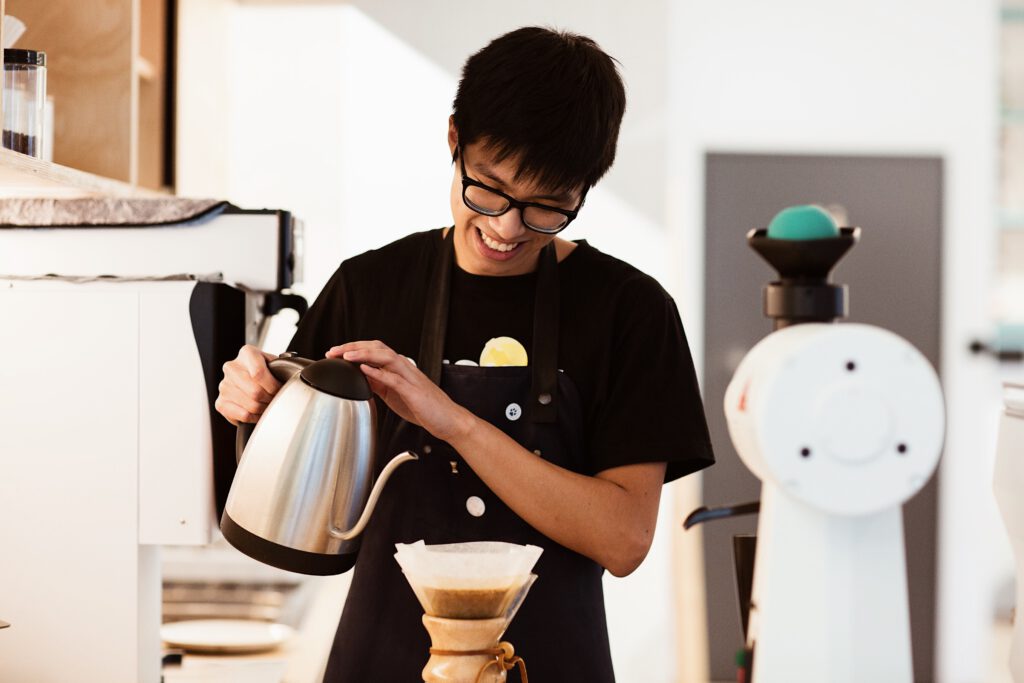 Each training day ends with theoretical and practical exams, and course participants can apply for a certificate. In each course they earn a certain number of points within the CSP, and at 100 points they are awarded with the Coffee Skills Diploma, which is a final proof that they exhibit the highest level of coffee skills and knowledge, acknowledge all over the world.

Create standards and procedures
They will make your trained baristas work even better behind the coffee bar. If everyone closely follows recipes, the work will get easier, complaints and losses will drop and new employees will start off on the right foot. Opening and closing checklists, procedures for receiving deliveries, handling complaints or taking reservations, are at the core of smooth customer service and let baristas focus on what's the most important: building rapport with guests and creating a pleasant atmosphere at your café. Without standardized work, even the most experienced and fully trained baristas will work below their capabilities and efficiency. 

Obviously, it makes sense to invest in training. After all, your employees are the ones responsible for serving guests and taking their orders and cutting-edge espresso machines and grinders are merely tools in their hands. You need to be well-trained to make them work. Advanced barista skills raise sales and build the reputation of the brand based on professionalism and top quality.