Good coffee means not only a variety of flavours in the cup but also a variety of ways of bringing them out. There are many brewing methods; however, in most situations where we quickly need a lot of coffee, we are going to need a coffee maker. Which by no means has to be an espresso machine.
A pour-over coffee maker – because it is what we are talking about – can be useful in many situations, both at hotels and at coffee shops. Let's take a closer look at it within the context of different businesses.
Office/hotel/restaurant
When we think about a coffee maker, large coffee machines from offices, hotels or petrol stations usually come to our mind. Automatic espresso machines – because we are talking about them – are now very popular. They are efficient, fast, easy to operate. They can grind, brew coffee, then froth the milk and pour it into the cup. This sounds as if you have found an ideal, but is it really so? The first problem can be the price: even the smallest espresso machines cost at least 800 €, whereas top ones mean spending no less than 10,000 €. 
Even if money is not a problem for you, daily maintenance will certainly become one. Automatic coffee machines are easy to use, but their construction is extremely complicated. They require regular brushing and spending your time cleaning the shower head, steam wand, drip tray and so on. If something breaks down, you can either have the machine serviced at a repair centre or call a specialist. In any event, the appliance is out of order for a couple of days and employees are deprived of life-giving energy coming from coffee. Can you solve the problem of coffee at your office in a different way? Of course!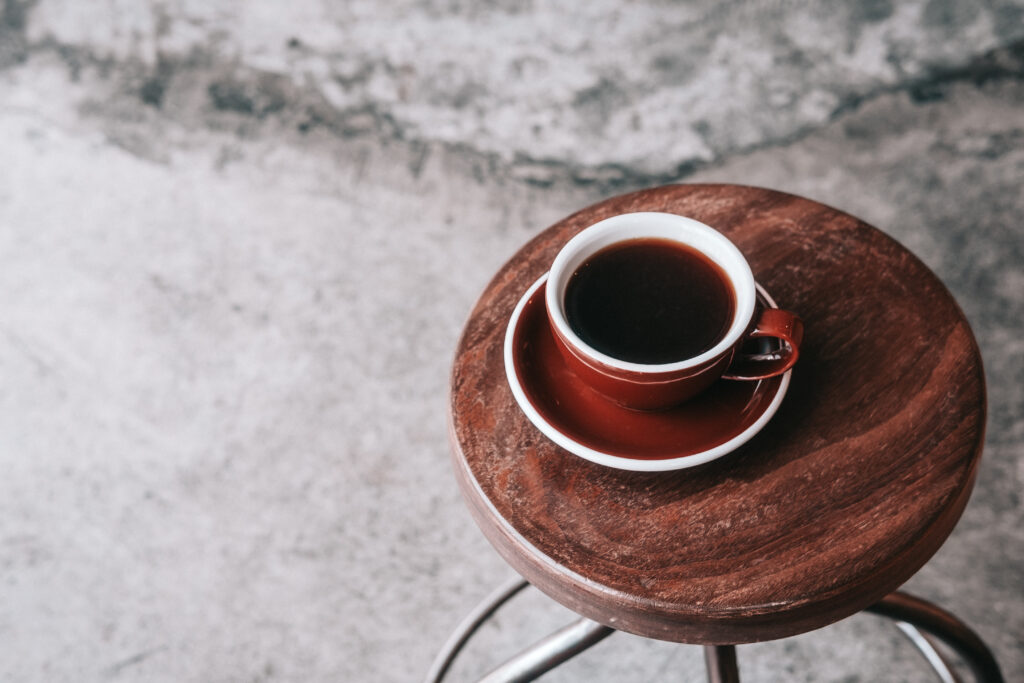 This is where the pour-over coffee maker comes in. Its most important advantages when compared to its rival are the following:
Low cost: high quality pour-over coffee maker can cost us as little as 200 €, whereas highly efficient industrial products can be bought for under 2,000 €. 
Easy construction: literally nothing can break down here. A pour-over coffee maker consists of a water tank, brew chamber and dripper with coffee running straight into a jug or flask. Since there are no mechanical elements, pumps, seals, no omnipresent electronic equipment whatsoever, pour-over coffee makers are one of the most reliable appliances on the market.
Even easier to use: daily maintenance boils down to washing a jug or flask.
Great taste: pour-over brewing is the most popular way of making coffee in the United States or Scandinavia where the rate of coffee consumption per capita is the highest in the world. Pour-over coffee has a bigger size and is less concentrated than coffee from an espresso machine; but thanks to that second feature, caffeine works longer and better over time.
High efficiency: when you need coffee here and now, for several or a couple of dozens of people at one time, the pour-over coffee maker is the only good choice. Brewing even 6 litres of fresh coffee takes less than 10 minutes and you can do it beforehand, so that when coffee is needed the most (during a break at a conference or meeting), it is there for everyone to simply pour it into their cup. A so-called 'quick pour-over' – coffee already waiting for you – is a very popular brew at coffee shops all over the world. A flask in which you keep coffee keeps the temperature and preserves the quality of the brew for around 2 hours. In the meantime, you can brew more coffee and satisfy even the biggest demand for caffeine.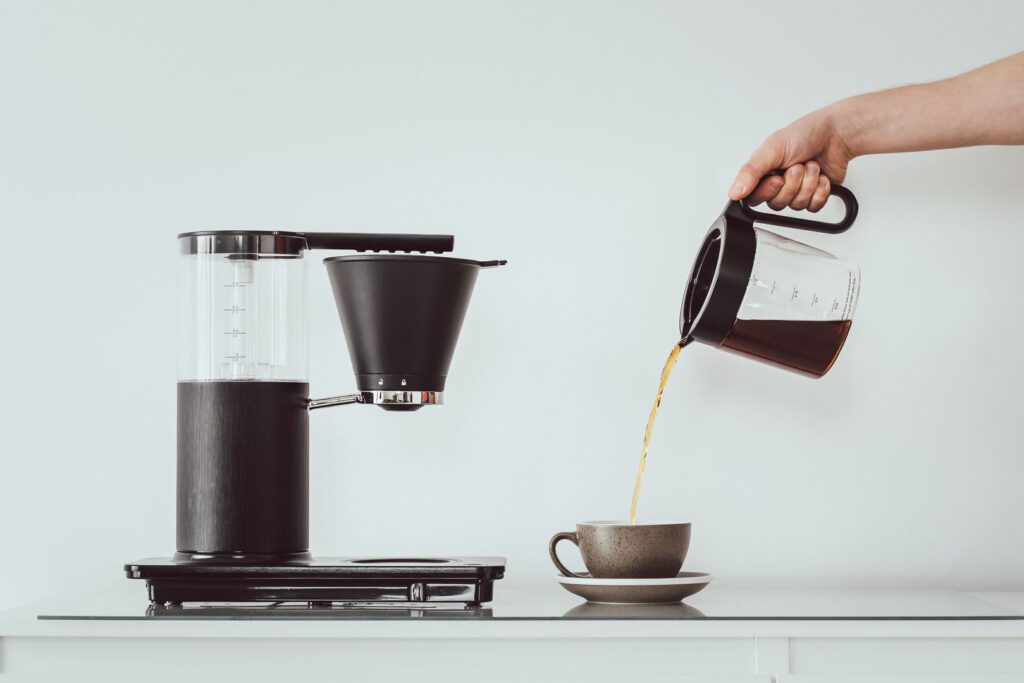 Coffee shop
Being a place dedicated to coffee, coffee shops usually use espresso machines with a portafilter on which their business model is based. This isn't to say that selling coffee from a pour-over coffee maker is difficult or pointless. What benefits does it have for a coffee shop?
The 'quick pour-over' we mentioned earlier is a great tool for reducing queues during peak hours.
Pour-over coffee is also a lower beverage cost; the bigger the batch, the lower the cost.
Pour-over brewing allows you to have more coffees on offer: all you need is an additional flask. Then at the same time you can offer your guests a brew made from beans from Brasilia, Ethiopia or India. At a low cost, you can reach new potential clients and increase sales.
An alternative to alternative brewing methods. If you know how to hand craft a cup of coffee – a method associated with the term speciality coffee – and yet you cannot do it, because, e.g. there is not enough space, it would impair your efficiency or require specialist trainings, the pour-over coffee maker will be the answer to all these problems. You only need to measure the appropriate amount of coffee, grind it and pour it into the filter, and then switch the coffee maker on. After a few minutes, your flask will be full of coffee of excellent quality which will always taste the same – the coffee maker is never wrong.
What to buy?
If you consider buying a pour-over coffee maker, it is worthwhile to think about a few key features:
Grinder – unlike automatic espresso machines, the majority of pour-over coffee makers don't have a built-in coffee grinder. And yet, you have nothing to fear, because a separate grinder means more possibilities of choosing coffee. Each time, it allows us to grind different beans, which is essential, if our focus is on more than one coffee. A separate grinder may also be kept in a different place than the coffee machine, which is advantageous in areas where space is tight. Finally, no one has ever said you cannot brew ground coffee. If this option happens to be the most appropriate in a given situation, then you don't need a grinder at all!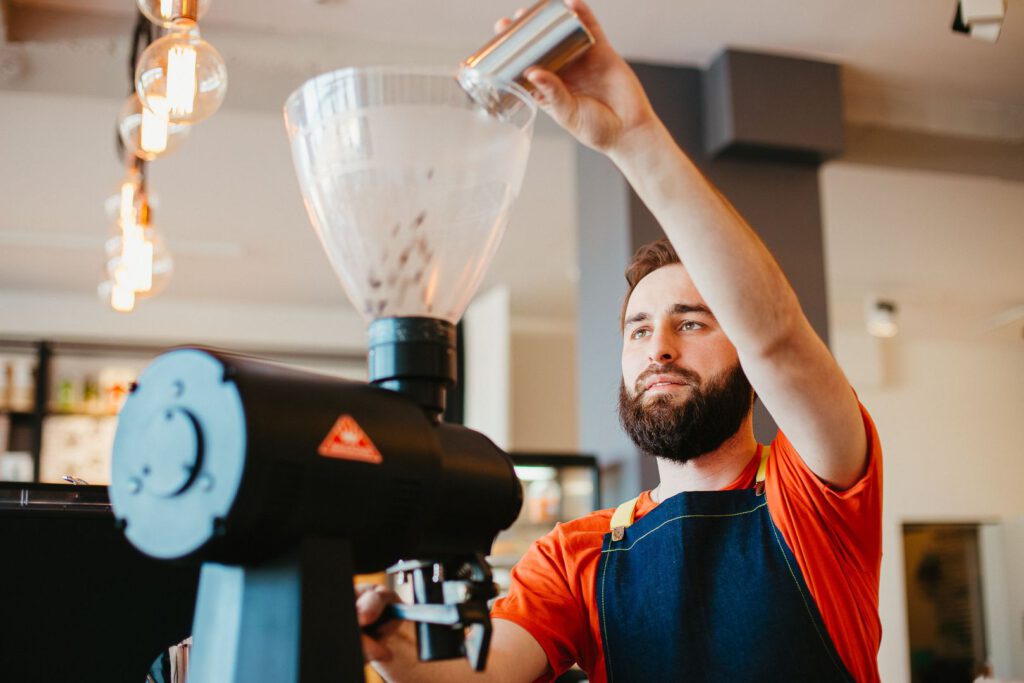 Water line – if you expect many customers, then the most appropriate coffee maker for you will be the one with a direct connection to water, which is also more efficient. This way you don't have to refill it with water. In any other case, the coffee maker will pour as much water over coffee as we fill it with. Regardless of the option, remember to filter water! This will be reflected both in coffee flavour and the lifespan of the machine.
Automatic brewing programmes – the best and most efficient coffee makers allow you to use different recipes for each coffee. As a result, Ethiopian coffee will be brewed in a different way than, e.g. coffee from Panama, and an experienced barista will be able to bring out the flavour of the beans even more.
A flask or glass jug – it's way better to go with the first one. A flask preserves coffee quality for longer than a glass jug kept on a keep-warm plate. Whenever you can, choose a flask or drink coffee straight away after brewing.
This is an overview of some of the best pour-over coffee makers with a variety of uses.
Ratio Eight – a treat for design lovers and quality coffee enthusiasts. Innovative dosing and water temperature control systems, as well as fine materials make it an ideal purchase for offices and small coffee shops or restaurants. 
Moccamaster with a flask will be perfect for a coffee shop, hotel with breakfast buffet or office with a dozen employees. Hand-assembled in the Netherlands, with a 5-year warranty and timeless design available in different colours.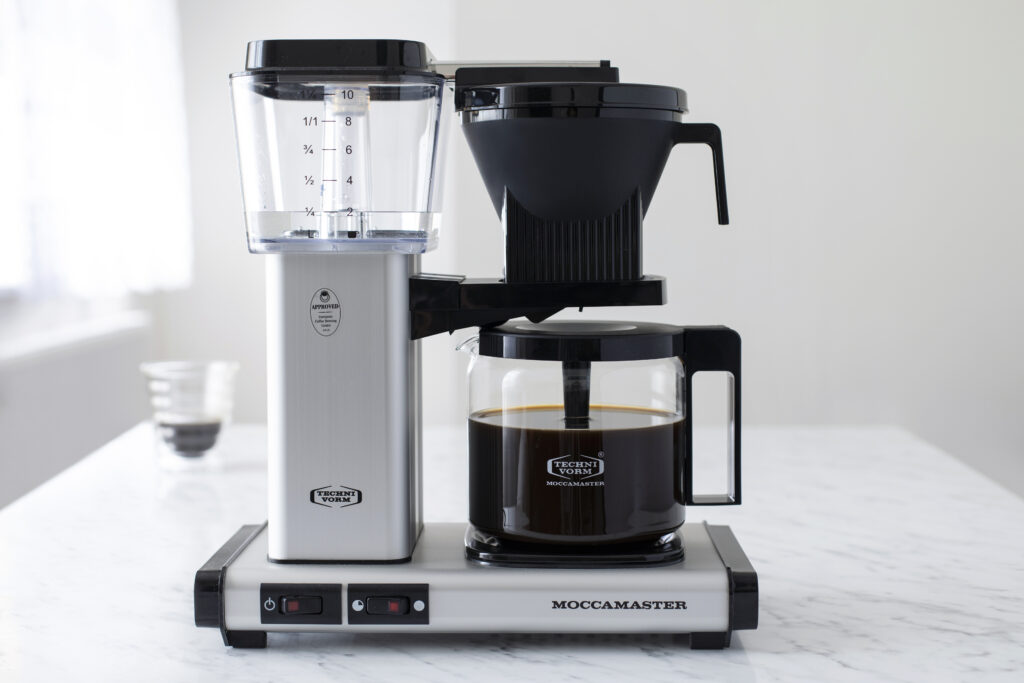 Melitta Aromafresh – a pour-over coffee maker with built-in grinder suitable for a middle-sized office. Simple to use as it is, this coffee maker will be the best choice for those who want to pour coffee in, pour water over it and not bother about anything more.
Bunn Wave-S – the first 'adult' coffee maker with a water line, programmable dosing and efficiency of up to 3 litres per cycle. Indestructible, quiet, compact. It will easily serve 100 people a day. It can be used at the office, hotel, as well as at a coffee shop with medium foot traffic whose focus is on quick service.
Bunn ICBA – the heavyweight for the most demanding buyers. If efficiency and brew quality are your priority, this model will be a perfect fit for you. Not only will it brew up to 6 litres of coffee at one go, but also it will let you programme different recipes for each coffee; it is fully configurable and reliable