Every business which serves food and drinks must absolutely make sure that they are perfectly clean all the time. Once the customer set foot in your premises, they immediately pay attention to how clean it is. Proper order, however, must be maintained not only as far as the customer's scrutinizing eye can see, but also at the back of the house. We explain how to clean your coffee machine and recommend professional cleaning agents for you coffee equipment.
We have already written about maintaining order and fighting off dirt right here. Today we are focusing on the pride of every barista: the  cleanliness of the coffee equipment. You've probably figured out already that a splash of warm water once a week will not do the job. Coffee accessories, coffee machines and coffee mills – they all need everyday maintenance to produce a good espresso. Some cleaning actions need to be performed daily or weekly to make the devices and their elements work perfectly.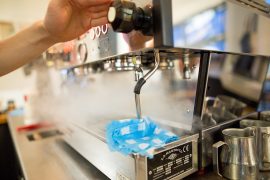 Coffee Machine – Cleaning 101 
An espresso machine is the heart of every café, the place generating the highest traffic at the coffee bar. In more crowded cafés the coffee machines can make even a few thousand coffees per day. So, it's crucial to take care of them properly. Traditional coffee machine is a complex, multifaceted piece of equipment, so we have split the cleaning process into a few steps. Cleaning of a semi-automatic espresso machine means taking care of:
The Group Heads
It's essential to clean it every day – after 400 extracted cups of coffee (c. 3 kg of coffee) clean it with a blind filter basket and dedicated cleaning agent (tablets or powder). In our Coffedesk cafés we use Cafiza. The proper maintenance of the group head is important because if any coffee remains in the shower screens, the water won't flow evenly through the ground beans. To perform backwashing correctly, add a portion of Cafiza powder to the blind filter. Then lock the portafilter in the group and run the cleaning mode. If your coffee machine has no such programme, start the brewing cycle and stop it for 10 seconds, repeating the process about 5 times.
Portafilter
Portafilter is undoubtedly the barista's best friend. Starting with holding ground coffee, to stabilising tamping, to initiating the brewing cycle and dosing espresso, portafilter always has your back. So, you need to take care of your dear friend properly. It's really simple: pour hot water into a large container, add about 10 g of our universal Cafiza cleaning agent and stir. Immerse the filters, shower heads, metal parts of the portafilter or other small metal elements that need descaling in the solution. After 30 minutes rinse everything under running water.  
Streamer for milk frothing
Few things can be better than a flat white with a beautiful heart on top served by a smiling barista. To make perfectly smooth milk foam, baristas use a streamer. And just like every part of the espresso machine, it also need cleaning. Of course, after every use you need to run some steam through the nozzle and wipe it with a dedicated soft cloth. In addition, once or twice a day, as necessary, clean the streamer with Rinza liquid. Pour water to the frothing pitcher and add about 30 ml of the cleaning agent. Next, "froth" the water with the solution and leave the steam wand to soak for several minutes, then wipe it thoroughly.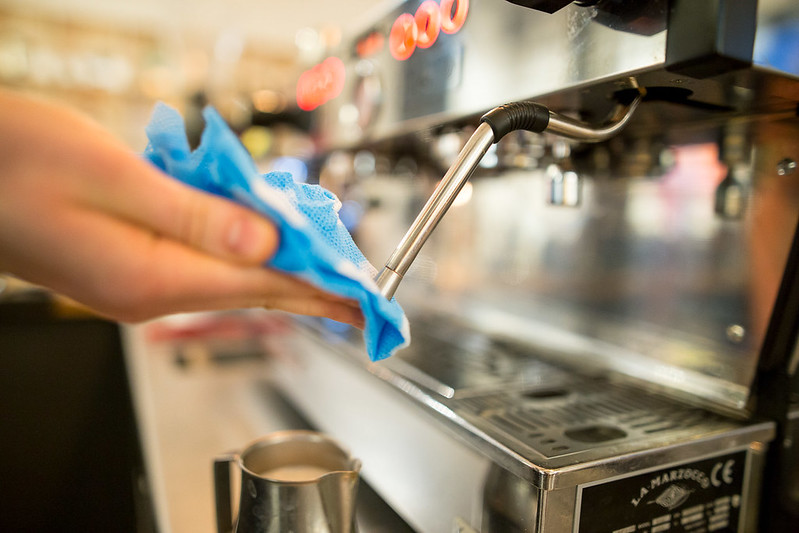 A common sight in the cafés are espresso machines and coffee grinders in outrages conditions, not cleaned or maintained properly. Why do so many baristas still prepare coffee with dirty gear? Unfortunately, the idea that it's enough to wash the espresso machine  or a grinder with some warm water once a week or just occasionally wipe it with a wet cloth is still a common and widely executed misconception. It's just wrong and unacceptable.
How to Clean a Drip Coffee Machine? 
In the drip coffee machine, water steadily flows through coffee placed in a filter and then drips into the thermal carafe or a jug. The brewed coffee can remain in the carafe even up to a few hours per day, so it's absolutely vital to clean it every day and descale regularly. Cafiza is a good choice in this case as well, the experts recommend Tabz. Put one tablet into the basket of the coffee machine, set the jug and turn on the brewing programme. Leave overnight. Then rinse thoroughly with warm water.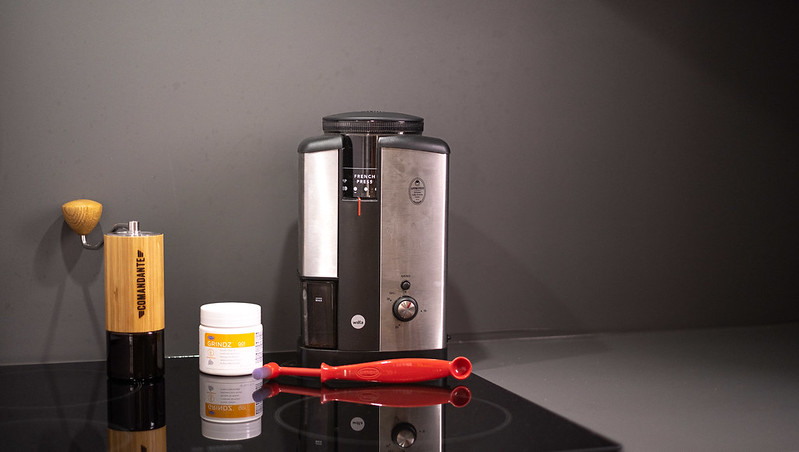 How to Clean a Coffee Grinder?
It is said that the grinder is even more important for making coffee than the coffee machine. A professional coffee grinder used in a café can grind up to several kilograms of coffee per day. To make it last and serve well as long as possible, you need to take care of it properly. Ground beans leave some coffee oil inside the grinder, which make it go rancid and mouldy over time, affecting ground coffee and shortening the grinder's lifespan. In our cafés we use Grindz Grinde Cleaner. All you need to do is put a proper amount of Grinds to the hopper, set the grinding to medium-size and grind the product just like you grind coffee beans. Done!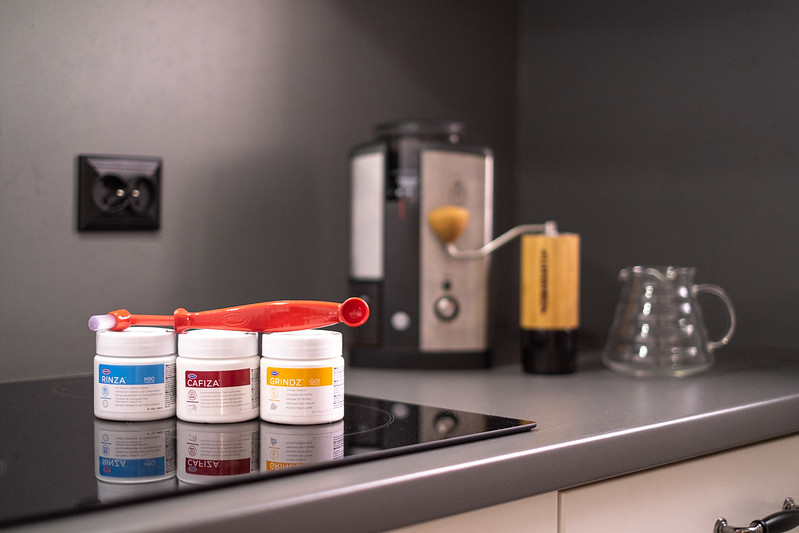 To sum up: don't mess with cleanliness and hygiene. These short and simple maintenance steps prevent and eliminate the issue of dirt and lime, positively influence the brew and make the effects clear to the barista's sight and to the client's palate from the very first cleaning. Remember to clean and degrease coffee equipment and accessories daily with certified cleaning agents, which are not only effective, but 100% safe both for you and your device. A good example of such products are cleaning agents by Urnex.