Nearly 80% of adult Poles declare that they drink coffee. We are increasingly focusing on quality and good taste, and although we're not like the Italians yet, we also like cafés for their good atmosphere, the opportunity to relax, the smell of freshly ground coffee and freshly baked pastries. So, why not turn your love of coffee into a business? Read on for our suggestions on how to find the right equipment for your café.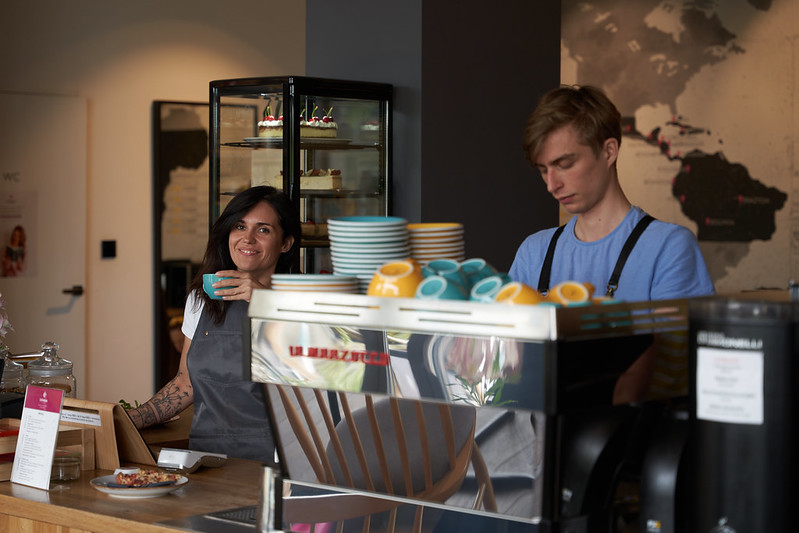 To open your own coffee shop, first and foremost you need an idea (and a certain amount of money, but more on that later 😊). Working in a café, I often notice that our guests come not only for the best coffee, but also for the atmosphere, people and good connection with the barista – that's why the idea for a place is so crucial.
The place is ready, you are set to work, and the tables are waiting for the first guests – let's choose the equipment!
You must absolutely begin with the heart of each café and the most important element of the bar, which is, of course, the coffee machine. The first choice you must face is whether you want an automatic or manual coffee machine. The first one will certainly be more effective if coffee isn't the main item on your menu but rather a kind of addition to your key services or products. The advantage of automatic coffee machines is definitely easy operation and low employee involvement in the preparation of coffee. The disadvantages, however, include the issue of durability and limited possibility of adjustment, which often translates into worse quality in comparison to manual coffee machines. The following automatic coffee machines are suitable for both small and large restaurants: Dr. Coffee Minibar S, Jura Giga X3 and Jura WE8 Chrome. Each of them is intuitive and easy to use, which makes them also functional in offices or places where guests prepare their own coffee.
More fun begins when choosing a manual coffee machine, which definitely requires focusing on quality. Believe me, there is nothing worse than a breakdown of the coffee machine in a café, especially when the customer is in a hurry 😊. Most cafés choose the flagship Italian La Marzocco Linea Classic AV 2 group. It is both simple and elegant. Made of stainless steel, it will be a perfect match for any interior. Promac coffee machines are a cheaper, but also good solution. Particularly noteworthy are Promac Club ME Black and Promac Green Compact. Both of these models are characterized by a relatively small size and high performance, definitely appreciated at high-traffic times. The coffee machine is the driving force behind every café, so it is really worth investing in new and functional equipment.
According to statistics, the best-selling coffee in Poland is latte. And yet the guests of our Coffeedesk cafés go against this trend and most often choose Filter Coffee i.e. coffee from a pour over coffee brewer. It is a perfect solution for those who want a large cup of black coffee with a lot of caffeine on the go! It is important that the menu is comprehensive, i.e. one in which everyone finds something interesting, so introducing filter coffee is a good solution. To get started, we can recommend the well-known and liked Moccamaster, which is good equipment to begin with because you can diversify your menu at a relatively low cost. In turn, if the demand grows and Moccamaster is no longer enough, it is worth looking for something bigger. All our coffee shops use BUNN coffee machines. BUNN offers a wide range of equipment, so you can easily find something within your price range. Depending on the need and the amount of batch brewed coffee you sell, you can consider plumbed or not plumbed models. In addition to professional pourover coffee brewers, BUNN also produces airpots, which are irreplaceable in food industry and will be great not only in a café, but also in hotel breakfast buffets or in the kitchen.
Which Grinder to Choose?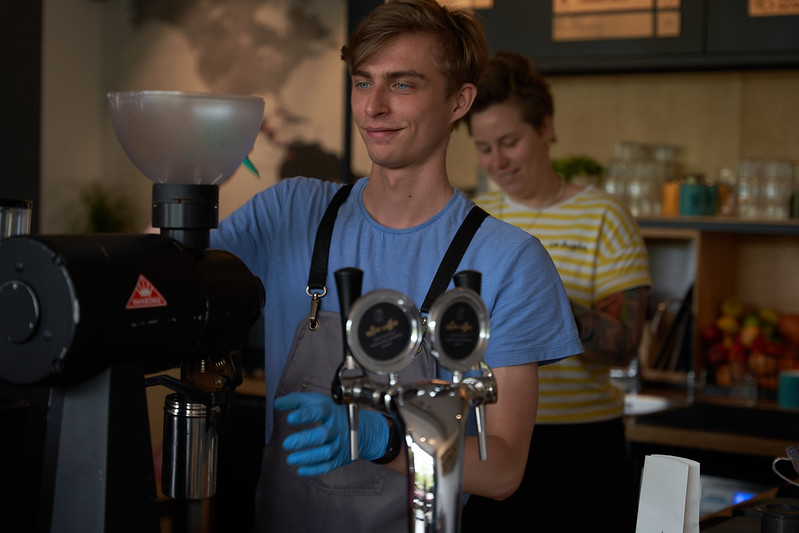 Coffee experts say that the grinder is even more important than the coffee machine. No wonder, it is certainly easier to extract the flavor from a well-ground coffee with a not so good espresso machine than the other way around. So, while choosing a grinder you should focus on quality too. Two types of grinders will come in handy in the café. The first one will be the espresso grinder. If your coffee only accompanies your main products (you don't serve it often), the best and cheapest choice will be the Eureka Mignon Specialita 55 grinder. Its best features include small size and a very even grind, on the downside, it is not suitable for continuous operation. However, if you plan to open a coffee shop, be sure to check out the Eureka Atom Specialty 75E grinder – it combines the latest technology, great design and comfort of work. I can guarantee that this equipment will satisfy even the most demanding baristas. If you are planning to sell coffee beans as well, you need grinders that will work well both for pour-over coffee you serve and also for grinding the whole packet of coffee "at once" for the customer. The cheapest solution in this case will be the iconic Fellow Ode or Wilfa Uniform, but a much better and more professional solution will be the professional Eureka Drogheria 75/85.
How to Create the Ambience in Your Café – Choosing Accessories!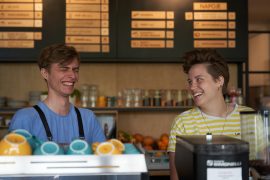 Phew, we've ticked off the equipment, now we are over the hump! Who doesn't like choosing accessories? It is these small additions that not only create the style of the whole coffee shop, but also form the basis for the barista's daily work. If you open a new café, you will certainly need milk frothing pitchers necessary for preparing milk-based coffees, so it is important that they are comfortable to use and long-lasting. You will definitely need them at least in two sizes: 300 ml and 600 ml. The most interesting pitchers are produced by brands such as Fellow, Rhinowares and Barista Space (you will fall in love with their colors). The list of the most important accessories also includes a tamper, a coffee knock box, a tamper mat and a set of barista cloths. It is worth looking at the Motta company's offer – their accessories are worth the price and are definitely durable. You will also need espresso shot jugs, bar washing brushes, and, of course, kettles and coffee scales.
Manually brewed coffee is becoming more and more popular in restaurants, cafés and hotels. This is because this way of brewing is repeatable and easy to recreate from a properly prepared recipe and with the right equipment. The preparation of drip coffee also requires less effort and time, which lowers work costs while increasing employee productivity. There are many possibilities of expanding the Batch Brew offer, but for the very beginning it's a good idea to serve drip coffee. To make it, you will need a gooseneck kettle, such as Fellow Stagg EKG, and a dripper with a server like Hario V60 Craft Coffee Maker set, as well as filters. Plus the beans, of course.
Coffee cups are not only an aesthetic choice, but also a functional one. It is important that the café tableware matches the ambient, but is also resistant to repeated washing, falls, and most importantly – it is comfortable to use, both for the barista and the customer. Loveramics products fit this description perfectly as they are not only available in countless colors, but also meet the size standards of the most popular coffees: latte, flat white and cappuccino. The best proof that it is the perfect choice for your business is the fact that you can see them in most of the famous cafés in Poland and around the world.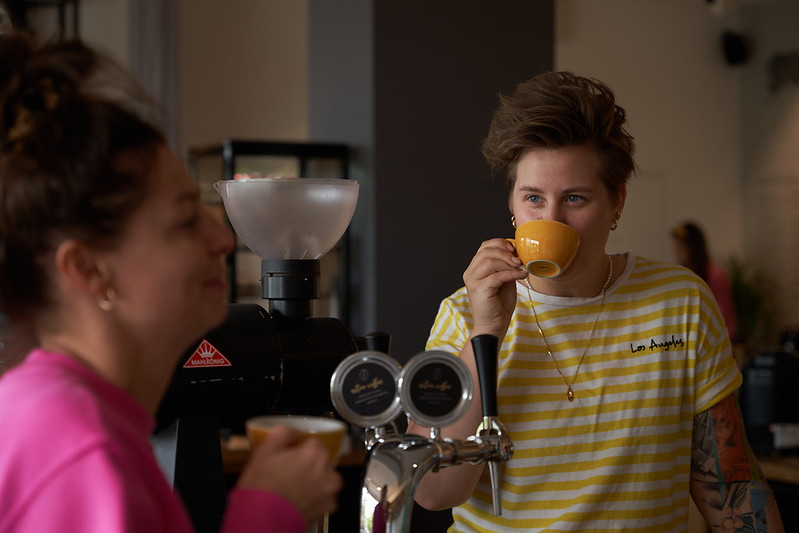 The most important aspect in gastronomy, apart from the best customer service is, of course, order. Working with food products requires that the space around you is properly disinfected and adapted to work. We have already written about keeping the café in order in another article, but it is worth reminding about the proper maintenance of coffee equipment. For everyday cleaning of both the coffee machines and bar grinders, you can use the universal products by Urnex.
The taste of coffee depends not only on the selected beans, but to a great extent also on water. It is very important that it contains the right amount of minerals to support coffee extraction. The best solution in a café is to install a reverse osmosis system with controlled dosing of minerals. However, if you don't want to invest so much money at the very beginning, you can buy water filter jugs, or use bottled water.
Despite the money and the amount of work needed to prepare the premises, a café can become a very profitable and, more importantly, interesting business. The trend for meetings in cafés is growing, and specialty coffee has more and more fans. Opening a café can be a good idea both for the beginners and for those who have already cut their teeth in food business.